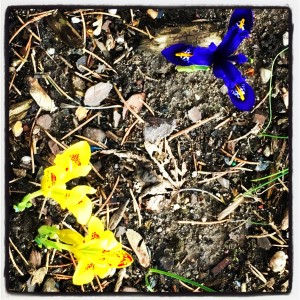 Renewal. Rebirth. Green shoots breaking through the dirt. Known also as Chag HaAviv, "the Spring Holiday," Passover is part religious ritual, part people-building exercise, and part springtime rite.
Whether it arrives in cold, rainy March, or flowerful April, Passover always manages to lift my heart. Its arrival reminds me to hold on to hope, no matter how dreary the winter has been, no matter how gloomy things look. Hope, Passover teaches, is right around the corner. The days will get longer, the flowers will bloom, things can get better.
After a very difficult personal year in which I didn't know what the contours of my life were going to look like, I decided to plant bulbs in my garden. I didn't even know at that time that I'd still be in that very house to see them come up months later in the spring, but it was a stubborn act of hope in the future. And by that next spring I got to see the flowers burst into glorious color right in time for Passover.
This Passover recipe is one of my favorites because of the bright green color, and the lemony flavor and smell. These cookies taste of spring, and hope. Pistachios are an ancient near eastern food, mentioned in the Bible, and feature prominently in Persian Jewish cooking. They speak of our historical past – where we've been and the resilience we've managed to harness to get from there to here, despite the obstacles. And the yellow lemons speak to the potential that the future holds – the possibility of brightness and light, the warm sunshine of the coming spring and summer.
Now it's a year later and it's been another difficult winter, but this time on a national and international level. Our national leadership has dramatically shifted and suddenly women's reproductive rights, LGBTQ rights, climate justice, and much more are under attack. Ant-semitism is on the rise. We're living in a world of alternative facts and cowardly leadership. And while refugees are being denied entry to this country and children are washing up on beaches, we're bombing Syria for "moral reasons." My bulbs are coming up again but the world is upside down.
Needless to say, these cookies are not going to solve the world's problems. But they do provide balm for the soul and some hope for the future. And maybe that hope can give us strength to keep doing our part to heal this broken world.
Pistachio Lemon Passover Cookies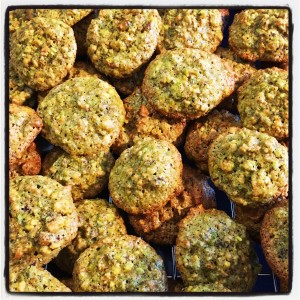 6 c ground pistachios
6 egg whites
2 c sugar
Juice of one lemon
rind from 2 lemons
In mixer, combine ground nuts, eggs whites, lemon juice and sugar.
Grate rind from two washed lemons and fold into mixture.
Use cookie scoop or spoon to place on pan lined with parchment paper.
Bake at 325 until brown around the edges.
Makes about 5 dozen cookies. (And they're gluten-free!)