It's been a tough few weeks and doesn't look like it's going to be getting any better for at least four years. There's a lot to do. But we also need to take care of ourselves.  Even as we begin to figure out what part we're going to play in the months and years to come, we have to keep feeding our minds and souls. So read a book. Or two. Or five. Here are some suggestions. More to come soon.
The Underground Railroad, by Colson Whitehead  ©©©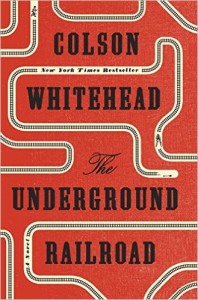 This gorgeous, heartbreaking book was on President Obama's summer reading list and it's not hard to see why he thought it was a worthwhile read. (Remember when we had a president who read books?). In this novel, Whitehead takes on our shameful history of slavery in America. But this is not simply a tale of victimization and cruelty. Whitehead's characters, especially Cora, a motherless girl on the edge of womanhood on a Georgia plantation, are the center of this story of survival and resilience. Slavery and racism are the reality in which this novel is set, but this is a tale of struggle, kindness, and hope in the midst of horror. As Whitehead's characters come to life on the page, so too does the mechanism of escape, the underground railroad, itself a full-blown character in the book. The dream of a way out of oppression and degradation is so real for the characters that the escape route itself becomes real, an actual railroad with train cars that zigzags underneath the earth on its way toward freedom. Danger is the constant companion of hope, both as real as the tracks that lay hidden underneath homes and streets and mountains. There are many Americas in this book, an idea that is even more resonant in this post-election season of sorrow. Whitehead depicts head on the blindness with which the slave era was afflicted that allowed some people to believe that all humans were not equal and to thus treat other people as property without rights or agency, a legacy that lives with us still.  Whitehead shines a light on these different Americas that existed within close prolixity to each other, and are times literally just below or above or out the window or behind a wall, but were hidden from each other unless you know where to look. This novel reminds us not only how far we have from the days of slavery, but how far we still have to go to break down the barriers that exist in this country.
Commonwealth, by Ann Patchett  ©©©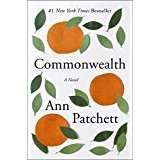 At a recent book talk, Patchett revealed that this powerful novel is based on her family. That fact is all the more meaningful once you've read the book and know that, among other things, the story contained within Commonwealth involves a book that gets written about the family in the book. So yes, it's a book about a family about a book about a family. When talking about how much of it was really about her family, she had a great comment: None of it is real, and all of it is true. That's just a perfect way to talk about writing fiction. But this novel is much more – it is complex, involved, and has a long arc. It starts with a wonderfully random, mundane moment – a lawyer shows up with a bottle of gin at a christening part for the baby daughter of a cop he doesn't really know. It is a moment that winds up changing the trajectory of many lives, ending marriages, starting other marriages, and the naming of a child. Siblings, love, trust, guns, and Benadryl are all important themes that run through this richly woven novel of moments that on their own often seen quotidian, but add up together to a beautifully complex portrayal of family connections, alliances, and betrayals over several generations. Patchett is a master of imbuing the mundane with enormous consequences, and revealing how one seemingly insignificant act can dramatically shift the course of many lives.
H Is for Hawk, by Helen Macdonald  ©©©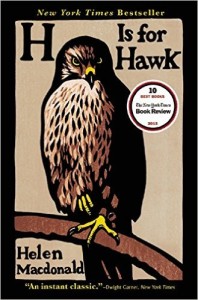 I don't typically read nonfiction in my free time, as that is how I spend much of my work life.  But I made an exception for this book upon the enthusiastic recommendations of two smart friends who are both great readers. They were right – it was worth it. (Also, it's on many best book of the year lists and a finalist for many awards, so they weren't alone in their enthusiasm for this book). Helen Macdonald is a British academic who became unglued by the death of her father. In the midst of despair, she decides to go through with a long deferred dream to get a hawk and train it.  There is much beautiful description in the book about the joy and agony of training her hawk, Mabel, and wonderful connections to T.H White and his fascination with hawks. As an adolescent I was captivated by White's Once and Future King and still vividly remember Merlyn transforming Wart, who would later become King Arthur, into a hawk as part of his training to become a good and worthy king. So I loved all the Arthurian and T.H. White references. But putting those specifics aside, this is really a book about grief. Throughout the process of obtaining and training Mabel, Macdonald is in deep mourning. She experiences periods of significant self-doubt and feelings of worthlessness, all familiar parts of coming to terms with loss. Her connection to Mabel and her single-minded dedication to training the hawk ultimately being her back into a life whose contours have been permanently reshaped. This may sound very odd, but it is a magnificent, if quirky, depiction of the anguish of losing a loved one, and is well worth the read.
The Guineveres, by Sarah Domet  ©©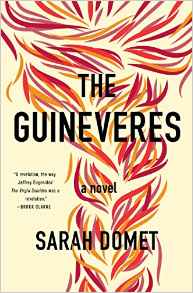 In a great coincidence, four girls named Guinevere all wind up at the Sisters of the Supreme Adoration convent school. Each girl is called something different – there is a Gwen, a Vere, a Ginny, and a Win – but it is their common name that brings these four unwanted girls together.  In the austere school run by nuns, the girls form a tight friendship that helps them manage the severity of their daily life, and deal with having been abandoned by their families. Each girl has an origin story which unfolds over the course of the novel, and each story is heartbreakingly sad. These origin stories are woven together with imagined and extraordinary stories of heroic but tragic women saints. Together the girls plot their emergence into the world upon turning eighteen, and buoy each other's daily existence. They get into trouble and cover for each other, share fantasies about life outside the convent and reassure each other that someday their lives will be better. Things begin to change when four severely wounded, unidentified soldiers are brought to the hospital wing of the convent to convalesce.  The girls each adopt a comatose solider, hoping that he will be their ticket out, and imagine themselves to be in love. These soldiers without names or identities are blank slates upon whom the Guineveres can write their own fantasies. Desperate for affection, these girls lavish love on their soldiers, refusing to believe that the futures of these young men are bleak at best, for they desperately need something to give them hope. Without giving away the ending, suffice it to say that futures never turn out as expected. But this is a beautiful tale of friendships that blossom out of sadness and desperation, and of the ways that hope and love grow in the crevices of suffering.
The Beauty Queen of Jerusalem,  by Sarit Yishai-Levi  ©©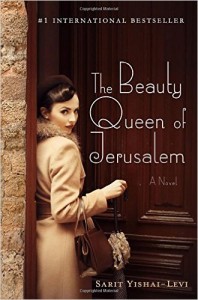 This book is both a great family story spanning several generations, and also a wonderful look into life in the pre-State and early statehood years in Jerusalem. Written originally in Hebrew, this novel was a bestseller in Israel. The story centers around four generations of women in a Sephardic Jewish family. The narrator, Gabriela, is desperate to learn more about her mother Luna, a beautiful but distant figure who never loved her the way a mother should. She has heard about a curse on the women of the family, and she sets out to investigate. Her journey through the family history takes her into stories about her great-grandmother Mercada, a healer, and her grandmother Rosa, who cleaned houses for the British. The history of Jerusalem, and the language and culture of the Sephardic Jews of Jerusalem, are also themselves significant characters in this novel. Yishai-Levi paints a rich and detailed picture of a culture and way of life at a particular time in history. As Gabriela sifts through the family history, she uncovers hidden scars, painful secrets, and ill-fated love stories deeply intertwined with time and place. Each of the four generations has lived through a time of great change and tragedy, and each has reacted to it differently. If you're interested in Jewish history, or in the history of Jerusalem, or just looking for a compelling inter-generational story, this one is highly recommended.
Rating System
©©© – Amazing Book, dazzling, blew me away
©© – Great Book, deeply satisfying
© – Good Book, but I wanted it to be even better