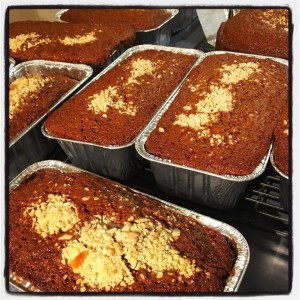 Part of my sermon writing and service preparation ritual is baking. Though I am not a congregational rabbi, this is the one time a year when I regularly have congregational responsibilities. For the last 18 years I have served as high holy day rabbi at Congregation B'nai Olam in Fire Island Pines. For the weeks leading up the holy days, in addition to my regular work responsibilities, I spend a good chunk of my nights and weekends preparing to lead the congregation.
I bounce between the computer and the oven, trying to be productive on both fronts. The baking helps ground me as the high holiday prep sets me aloft – it's a good balance. Both activities are different aspects of the holiday observance. One is about the soul and the intellect, the other about the worldly sphere of taste, smell, and visual pleasure. I have never tested this theory but it often seems that I could not do one without the other; they are two sides of the same experience, a sort of necessary duality. Food for the soul and inspiration for the body.
Every year, as I enter the process of soul-searching that is part of my sermon writing and preparation, I also search cookbooks and blogs for the best honey cake recipe. And as I've done so, I've tweaked and added to various recipes. I'm not a fan of dry, practically tasteless honey cake (or dry, tasteless sermons either, for that matter). So I've been going for a moist, dense, savory-sweet cake with depth. The recipe has got to include strong coffee, brandy or applejack, and crystalized ginger.
I think that I found it this year. The following recipe may just hit the spot. To give credit where credit is due, it is based very loosely on a recipe from Mimi Sheraton, but it is adapted quite a bit. Whether you are a sermon-writer, t'filah leader, outline-preparer, storyteller, cantor, rabbi, chanter, shofar-blower, communal leader, or communal participant, may your service to the community be sweet, full of depth, and nourishing. Shanah tovah u'metukah. 

The Best Honey Cake
 (Adapted from Mimi Sheraton)
2 cups dark honey
¾ cup black coffee, brewed double strength
3 tablespoons mild vegetable oil
1 cup crystalized ginger cut up into small pieces
4 extra-large eggs
¾ cup sugar
3½ cups sifted all-purpose flour
Pinch of salt
1 teaspoon baking soda
1½ teaspoons baking powder
1 teaspoon cinnamon
½ teaspoon ground nutmeg
½ teaspoon ground cloves
¼ cup brandy or applejack (I prefer applejack)
½ cup ground almonds
Preheat the oven to 325˚ F. Oil 2 small loaf pans.
Put the honey in a large, heavy saucepan and slowly bring to a boil over low heat. Add half the ginger and mix it into the honey. Let the honey mixture cool, then stir in the coffee and oil.
Beat the eggs with the sugar in a large bowl until they're lighter in color and thick in texture. Stir in the honey-coffee-ginger mixture. Add the flour, along with the salt, baking soda and powder, and spices, into the batter. Add brandy and mix in.
Pour the batter into the oiled pans. Sprinkle almonds and cut up pieces of crystalized ginger on top.
Bake until the top is golden brown, about 1½ hours. The edges will brown a long time before the centers are done so insert a knife or toothpick to test. Cool in the pans, or wrap in foil and pans refrigerated for up to two weeks before serving.
The longer the cake waits uncut, the more flavor it develops (within reason). It can last a few weeks if refrigerated.
It's also easy to double (or triple or quadruple). Make a bunch of small loaves to give as gifts at Rosh HaShanah.