Welcome to His Brother's Keeper, a fictional mystery series set in 2000, in New York. I've decided to periodically lend my blog to a friend, Eva Hirschel. Eva doesn't have a social media presence but she does have a mystery that she wanted to publish serially on-line, so I'm giving her a hand. (If you're just tuning in now, I suggest that you start at the beginning). Here is Part I, Chapter 6. Enjoy!
Chapter Six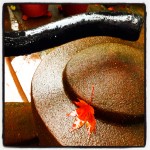 New York knows how to do libraries. The resources that are available for free, for anyone who wants, are staggering. The Internet, as wonderful as it is, has not yet replaced the role of the libraries in my life. The libraries of New York are my home away from home. There are specialized branch libraries for dance, music, black culture, and business, not to mention libraries where you can find the latest mystery novel. But the main reading room in the New York Public library on Fifth Avenue is one of my favorite places in the world. The big airy room, with its rows of oversized polished wooden tables, green reading lamps, ceiling murals and comfortable chairs is pretty close to heaven on earth. I am still awed each time I enter and look at all the different people sitting earnestly at the tables, reading, writing, and going through the stacks of books in front of them. I always wonder how many books and articles and theses are being written right before my very eyes. Hats off to those 19th century philanthropists who had the foresight to build these buildings and endow the public library system. And it's not only Manhattan. In Brooklyn we have our very own network of libraries. I am lucky enough to live right near the awe-inspiring Grand Army Plaza library, the main branch of the Brooklyn Public Library.
Across the street from Prospect Park, around the corner from the elegant Brooklyn Museum, bordering the Brooklyn Botanic Gardens, and facing Brooklyn's reproduction of Paris' Arc D'Triumphe, the main branch of the Brooklyn Public Library is a grand and majestic building. After ascending the stairs to the entrance, you encounter inlaid marble floors in the oversize lobby. Every time I visit I am reminded of descriptions of ancient temples, and I don't think the reference is coincidental. Surely the library was built as a temple of knowledge. It was the public libraries, along with the city's once exemplary public school system and city public university system, which allowed generations of immigrants and the children of immigrants to rise into the middle class. However, as I walked out in the glare of daylight with seven of the books on Chasidism that Rabbi Springer had recommended in my backpack, I had to smile. Because the knowledge being worshipped by the planners of the library was most certainly the classical knowledge of Western civilization, Greek, and Latin, mathematics and Shakespeare, and not the history of groups of Eastern European Jews who dressed in odd clothing, spoke Yiddish, and clung stubbornly to their particularism even as Enlightenment spread across Europe.
Walking down the steps, I stopped to watch a group passing in front of me along Eastern Parkway. There were about eight of them, dressed in modestly long blue plaid skirts, light blue long sleeve shirts, dark tights, and sneakers. Clearly they were wearing a school uniform, but it wasn't Catholic school. This group of girls was all white, and almost all had dark shoulder length hair with the exception of one red-head and one dirty-blond. Though they talked and laughed with each other, they spoke quietly and acted in a manner that seemed designed to not call attention to themselves, different from the way most young teenagers behaved in public. I watched them as they continued down the street towards the Botanic Gardens. They were almost certainly Chassidic, and probably from Crown Heights, a neighborhood very close to Park Slope in actual distance but otherwise worlds away.
Despite its proximity, I had never actually ventured in to the neighborhood dominated by the Lubavitchers, the followers of the late Chassidic Rebbe Menachem Schneerson. Like me, they were Jews, but in some ways they felt like another species altogether. As an outsider, their Judaism looked foreign, so different than what I was familiar with. Their world seemed insular, closed off from modernity, and limiting, especially for women. But I realized that there was a great deal I didn't know about who and what they were, what motivated them to make the choice to live by ancient values that the world around them had abandoned. This group of girls looked so different than their non-Chasidic peers, with their chaste long skirts and sleeves and noticeable lack of anything resembling popular culture on their persons.
Then I had to laugh at myself. Here I was pretending to myself that I was a big-time modern woman, with an important career, yet in reality I was under-employed in a non-career job of my own fabrication that I was able to do during the hours that my kids were either in pre-school, with a baby-sitter, or asleep. So much for a brave new world. When I was younger I fantasized about doing something exciting, like being a spy or private eye. I saw myself changing identities, keeping secrets, and working on the side of truth and justice. Instead, I grew up, went to grad school, got married, and started a career that got put on the back burner once I had kids. If I ever wrote a mystery novel, I would make my character childless. It's very convenient to be a P.I. when your hours are your own. I probably shared as much in common with the women those girls would grow up to be as I did with my college classmates who had delayed having children in favor of their careers.
First I finished up the paperwork and billing for a small job I had done for Bird, another member of The Committee. Bird was a lawyer and often sent work my way. This was an easy job for me, but the results were not going to be easy for Bird's client. She had asked me to track down a long-lost cousin of the client who was left an inheritance by the client's late father. On his deathbed the father had made the son promise that he would find the cousin and make sure he received the inheritance. Proud to show off my research skills, I succeeded in tracking down the young man. He was living on an organic garlic farm in California. Only in the end, the client wished I hadn't done such a good job, since it turned out that the inheritance included an admission of paternity from the late father, along with a great deal of money and stocks. Great way to meet a new brother.
The easiest thing would have been to just call Sarah Gelberman's grandfather and talk to him. But this was supposed to be a surprise. That meant that there was a great deal of basic information I didn't have. Sarah had provided me with her grandfather's date of birth and approximate date of arrival to the United States. According to what she had told me, her grandfather, Jack Gelberman, arrived at the age of 18 in 1947. She said that he had been in a concentration camp, but she didn't know what happened to him between Liberation and 1947. He didn't like to talk about it. Sarah had told me that he had lived in New York for many years, but currently resided in Florida. Vu den, as my grandmother would say, where else? He had one son named Nathan, who, if he was really related to the Halizcher Rebbe, would have been named after Nossen Shlomo Gelberman, who married Yosef Yehudah's daughter, and would therefore have been his father.
I got up from my desk and went to the dry erase board on the wall. It was time to make a tentative family tree, despite all the blanks. Sarah Gelberman (b. 1981), Nathan Gelberman (b. 1955), Jack Gelberman (b.1929). Then I drew a dotted line from Jack to Nossen Shlomo, and put the symbol for woman next to his name, for the wife who was, for the time being, nameless. From her I made a line to Yosef Yehudah, born 1879 according to one of the books I had checked out from the library. Nossen was certainly old enough to be Jack's father. Was it was possible that Jack's real name was Yankeleh? Yankeleh was a Yiddish diminutive for Yaakov, the Hebrew version of Jacob. Jack was sometimes short for Jacob. It wasn't such a stretch. The next time I talked to Sarah Gelberman I would ask. In one of the books recommended by Rabbi Springer I had read that Nossen had a son named Yaakov Chaim. And interestingly enough, the social security information I had requested on-line about Jack Gelberman in Florida had come through, and that had him recorded as Jacob H. Gelberman. The "H" could very well stand for Chaim, since in English Chaim could be just as easily spelled Haim, or even Hayyim. Transliteration was a subjective art. Then again, his middle name could simply be Howard, or Hugh, or Humphrey.
The information led me to another on-line business that allowed me, again for a price, to request credit information on Jacob H. Gelberman. The point of the exercise was to get information about prior employers and residences, which could lead me to information that would be useful in trying to create his family tree. That information had just come in, and was staring at me from my computer screen. The problem was, as opposed to what Sarah had told me, this Jacob H. Gelberman never lived in New York City. Before moving to Florida, he had lived in only one other place in the United States, in Altoona, Pennsylvania, where he was employed for many years by the Altoona Board of Education. Either there was mistake, or Sarah had been less than straightforward with me. It made no sense to me why she would lie, nor did it make sense why she wouldn't have told me where her grandfather lived before retiring in Florida. If this Jacob H. Gelberman was the same man, then her father would been born and raised in Altoona. It was time for Sarah Gelberman to resurface and answer some questions.
[To be continued….]
His Brother's Keeper is entirely fictional. None of the characters or situations described in this series are based on real people or events. Copyright (c) 2015 by Eva Hirschel.