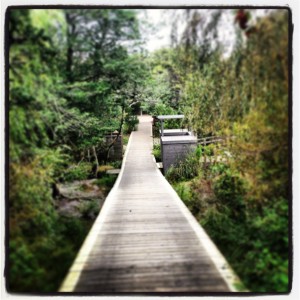 I was just asked via my High Holy Day pulpit's Facebook page if I can guarantee that we'll have a minyan of ten men for someone who wants to say Kaddish on Rosh HaShanah.  My first thought was, you know it's a gay congregation, right? That is to say, we will certainly have ten men.  We will have way more than ten men.  Praying with ten men will not be a problem.  But my second thought was, you know that the rabbi is a woman, right?
It's always interesting to learn what people hold on to.
The pulpit that I have been honored to serve for the last sixteen years is in Fire Island Pines. The Pines is a summer beach community, both famous and infamous for its gay culture and party life. Religious services are not the primary reason people go there, and yet, there we are, a lively, wonderful congregation offering services for Rosh HaShanah and Yom Kippur.
We are, perhaps, an eclectic congregation. The congregation is not affiliated with any particular movement, though we use a Reform machzor and I am a Reform rabbi. But I respect the fact that our congregation comes to services with many different backgrounds and comfort levels.  Some congregants did indeed grow up Reform, but many were raised in Orthodox or Conservative homes. Some were even raised ultra-Orthdox. Some were red diaper babies, raised in Jewish socialist families. Some are non-Jewish partners or friends of Jews. Some are seekers who find a meaningful experience with us regardless of their personal religious background. Some belong to year-round synagogues off the Island and some don't.  And that is all great – we are a diverse community open to all.
We are a synagogue in a mostly male gay community led by a straight woman rabbi but there are also plenty of gay women and straight people and queer people and gender non-conforming people who come to services.  It works.
All of us have traveled a distance from our backgrounds, though certainly some farther than others.  We stretch for each other and are flexible and do our best to accommodate different practices and customs. Some people stand for the Kaddish despite not being in mourning, and some don't. Some recite the Amidah out loud and some pray silently.  Some add in the names of the emahot, and some don't.
Every year during Elul, as I focus on my preparations for the holy days, I'm reminded that there are things we hold on to no matter how far we've traveled.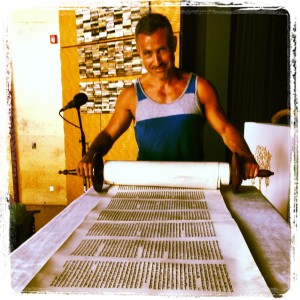 One year I was heckled from the kahal when I called up the first aliyah for a Torah reading because he wasn't a Kohein – it wasn't a mistake but rather my deliberate practice. Whenever Rosh HaShana falls on Shabbat I have to remind the congregation of the textual support for blowing Shofar, which is partly because we only do one day of Rosh HaShanah anyway – if I don't explain I get questioned. Some people are offended if we don't end Neilah at exactly the right time.  Some people miss musaf, though plenty have never heard of it. And then there's the question I just got, about whether we'll have ten men for a minyan.
All of this raises fascinating questions. Where do we bend, and where do we insist on sticking to what we understand to be the right way to do it? In a gay synagogue with a woman rabbi where everyone is welcomed, what is acceptable innovation? We are clearly not a "traditional" synagogue, but how do we define what "tradition" means? What practices do we keep and what do we discard? What do we do because we find it meaningful, and what do we do out of habit?  What do we question and push back against, and what do we accept because that's the way it's always been? What elements of halachah do we purposely and thoughtfully hold on to because we believe it, or believe in wrestling with it, and what do we hold on out of nostalgia, or inertia?
The reality is, all of us Jews on the liberal side of the spectrum make choices, whether consciously or not, about what we hold on to and what we don't, where we accept change and where we don't.  In the home in which I grew up, we weren't allowed to drink milk with our ham and cheese sandwiches because my mother had been raised in a kosher home and couldn't fathom serving a glass of milk with a meat sandwich (I later chose to keep kosher, but that's another blog altogether).
I wasn't offended by the question about ten men for a minyan because I understand where it comes from.  As I rabbi I teach that if we are to build lives of Jewish meaning, we must be intentional and not arbitrary in the choices we make.  But everyone has their own sense of "tradition" based on their background, and the pull of those connections is strong, meaningful, and real.  A request of ten men for a minyan might be about nostalgia, or a result of a certain kind of childhood education, or loyalty to a more traditional parent – I understand that it is not necessarily a deliberate attempt to exclude women or deny us a presence.  It is a practice at odds with the reality of our eclectic congregation.  But so be it.  We bend for each other even as we try to determine our own personal practices and comfort levels, even as we struggle to understand what makes sense to us and why.  So we will have a minyan for kaddish this Rosh HaShanah, and it will include ten men as well as many other people, and it will be led by a woman rabbi.