Fall is here, and the Tishrei holidays are (almost) over.  That means that it's time to get back to reading for pure pleasure.  Here is a round-up of some of the best books of the last months.  Even though I clearly liked some better than other, they're a varied bunch, and all worthwhile reads.
The Snow Child, by Eowyn Ivey.  A heartbreakingly beautiful and unusual novel. This story, set in 1920's Alaska and based in part on a Russian legend, is a fairy tale for grownups.  The writing is as spare and evocative as the landscape it describes.  Read it for the story.  Read it for the setting. Just read it.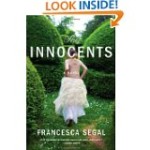 The Innocents, by Francesca Segal. I was excited to read this as the concept sounded great – a take on Edith Wharton's Age of Innocence with the setting of a contemporary Jewish community in London. It was a satisfactory read but in the end I found it tepid. The characters didn't have enough depth and the plot was too predictable. I wanted to care more than I did, and I wanted to be surprised. There was a lot of potential to explore here but the surface was merely scratched. That said, this would probably spark interesting discussions in book clubs.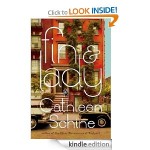 Fin and Lady, by Cathleen Schine. This book got me in the gut, in a good way. I'm still not even sure why, but it got under my skin. Maybe it was the descriptions of growing up in NYC in the 60's and 70's, maybe it was the relationship between the two main characters, maybe it was the rich mix of depth and humor and surface beauty, maybe it was the lyrical flow that took me up and down and up and down – never sure exactly where it was going – I'm still not sure but I'm sure that I loved it. It captured my heart.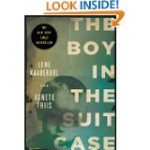 The Boy in the Suitcase, by Lene Kaaberbol and Agnete Friis. A great mystery, with enough surprises and plot twists to keep it interesting, and characters with enough dimensionality to keep me engaged.  Though there is some violence, it is much less gruesome and cruel than what might be expected from the title.  What is it with the Scandinavians and good mysteries?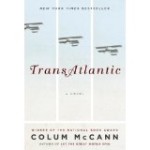 TransAtlantic, by Colin McCann.  One of the best of the bunch from the last few months of reading.  This book is breathtaking, driven by a poetic narrative that twists and turns and plays with language.  Three stories from different unique historical moments in Ireland intertwine and play off each other, moments that are meaningful not only to Ireland but also in North America over multiple generations.  One of the powerful images of the book is an early plane trip from Canada to Ireland, in which the two-man plane weaves and zigzags through the clouds.  That exhilarating sense of reeling back and forth, the horizon obscured and then visible and then obscured again, not knowing what is coming up ahead but waiting for it with great anticipation is a feeling that lasts throughout the book as the interconnected stories fly through time and space.  McCann takes the daring move of using several real historical people in this novel, including one who is still alive and apparently allowed himself to be used as a character.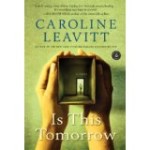 Is This Tomorrow, by Caroline Leavitt.  Interesting story about a mother and son who find themselves at the center of a mystery involving a missing boy.  This tragic turn of events shapes their lives in unexpected ways for years to come.  This novel has a compelling plot and interesting characters but it starts out a little flat, despite the great drama at the center, and doesn't really overcome that.  It's as if the author is scared of making a commitment to her own ideas.  She uses the mother's Jewish identity as a plot device, as another way in which this divorced woman is an outsider in her own neighborhood, but then doesn't do anything with it.  Their Judaism does not play any role in their lives, values or choices going forward, so it's an awkward and under utilized detail that just hangs there. The story is ripe for complicated ethical dilemmas, but the author seems skittish about getting in too deep.
The Virgins, by Pamela Erens.  This one grew on me.  Set at a boarding school in 1980, this is the story of what a teenage relationship feels like to those within it, and what it looks like to those outside.  There is an intensity that builds at the book progresses, mirroring the ever-growing intensity of the relationship at its center.  But things are never what they look like, and teenagers are complicated creatures. Along with classes, sports, and applying to college, their lives are punctuated with experimentation, sexuality, drugs, pleasure, shame, and fear. As they move toward graduation, teetering on the edge of the childhood they supposedly still are situated within but in fact have left long ago, the precarious balancing act of their lives falls apart.  More than a coming of age story, this book suggests that innocence can be as dangerous as the loss thereof, and that experience is not always what it's made out to be.
If you're looking for some other books to read, join me in the Man Booker challenge suggested by my friend Shoshana.  I'm going to try to read as many of the six novels on the short list as possible by the time they announce the winner on October 15th.  I'll write about them when I'm done.