I've been doing a lot of long distance driving lately. It's not my favorite activity, and I've been getting bored of the usual music and podcast combo that generally keeps me engaged enough to get where I'm going. So I decided to try a new method and listen to some books I wouldn't actually take the time to read. Memoirs sounded like the perfect fit.
I would normally argue that there's no difference between a book you read and a book you listen to, but five audiobooks later I'm changing my tune.  Just like ebooks allow for certain capabilities not possible in a printed book (i.e. embedded links or, yes, audio), the same is true for an audiobook.  Done well, and in particular when read by the writer, an audiobook can provide a unique experience.
I decided to go with memoirs because I love stories about people – what makes them tick, what made them who they are, what they care about, why they care about it, how they become who they are. There's always something to learn from hearing someone reflect back on their life. And what a bunch I chose – two actor/comedians, one writer, another actor, and one singer-songwriter. All famous people with public personas.  Listening to their stories of self was like being intimately immersed in these five very different people, or at least, the parts of their stories that they chose to share publicly.
So here is a review of my recent reading, or, well, listening, experiences.
Bossypants by Tina Fey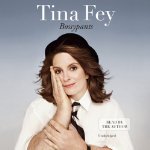 This book has interested me for a while, but truthfully, never enough to make me actually want to take the time to read it. But listening to it while driving to western Pennsylvania and back was definitely a worthwhile experience. We all know Tina Fey is wickedly funny and smart. Bossypants showed off both these part of Fey, and filled in a lot of her background along the way – how she got to be the Tina Fey we know and love. She shares some information about her formative years, and talks about the experiences that have mattered to her. There's some delicious behind-the-scenes discussion about her time at SNL and 30 Rock. Her descriptions of the ways that sketches got created, and what she and her colleagues found to be funny and why offered great insights into comedy. The best was when she discussed the experience of creating her version of Sarah Palin. Other moments are poignant, like when she talks about being a mother, or passionate like when she talks about being a woman in comedy, or complex, like when she talks about body image issues. Her intelligence and drive to succeed shine strongly through her narrative. The best part though is that she narrates the audiobook herself, and, you know, she's  Tina Fey. When you listen to this audiobook you get 5 hours and 35 solid minutes of Tina Fey talking to you. What could possibly be wrong with that?
Yes Please by Amy Poehler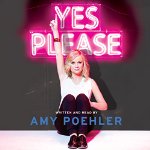 Naturally, after listening to Tina Fey recount her adventures at Second City and then SNL, the next audiobook choice had to be her friend and colleague, Amy Poehler.  Yes Please, thankfully narrated by Poehler herself, was definitely the perfect companion book. Poehler lets loose a little more than Fey does, inviting guest speakers to read and talk as part of the audiobook experience, and being, at times, not entirely diplomatic about her opinions (and that is not criticism – bring it on!). Her parents have a few cameo appearances, as does Seth Meyers and a few others. She really had fun with the concept of doing an audiobook and it was appreciated by this listener. It was fun to hear another perspective on some of the same events that Fey narrated in her book. Again, as in Bossypants, I really enjoyed hear Poehler talk about being a woman in comedy – with lessons easily applicable to other fields – and what got her to where she is today. She talked about her childhood and family, about her marriage and her children, letting us listeners in just enough to make us relate to her and to care.  It's hard to imagine that this loosely stitched together collection of often wonderfully irreverent anecdotes would have held up well as a regular book, but in audio format it was a great way to get across a bunch of highways in upstate NY and back home again.
The Seven Good Years by Etgar Keret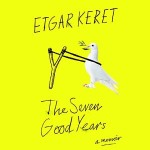 I was sure this one was going to be a home run. Keret is a great writer, and how exciting to get to learn more about Keret the person. And it is indeed a great book qua book – audio or not. Keret's signature quirky humor is in evidence, and it's even more powerful when he's writing about his own life and not just a fictional one. In his typical terse style he shares glimpses of his childhood, his teenage years, his marriage, his son, his parents, and his career.  He is the child of Holocaust survivors, a fact which greatly shaped who he is, and a cynical, conflicted Jewish Israeli who both loves his country and struggles with its legacy. The slices of his life that he shares may be framed in short chapters, but they are dense in their complex mix of the mundane and the profound.  This memoir seems like a great collection of short stories until you remember that he's actually talking about his own life. The only disappointment, and it is a significant one in an audiobook, is that Keret did not narrate the book himself.  That may be too much to expect given that it's a translation, but the narrator was not properly prepped in Hebrew pronunciation. Each place name or expression that he mangled was a jarring disruption in an otherwise captivating story.  This is a powerful memoir, but given the narration should probably be best experienced as a good old regular read and not as an audiobook.
Not My Father's Son: A Memoir by Alan Cumming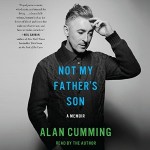 This gets top marks in this batch of books.  It is, first of all, a seriously good memoir. Though it could have used a little editing (sorry, I can't help it) it is a compelling story and wonderfully told. This isn't just a "how I became the great and famous me" kind of narrative. Instead, using a construct of "then" and "now" episodes, he contrasts events in his childhood with an ongoing story in his adult life, both of which revolve around his sense of self and identity. The bonus is that Cumming narrates the book himself and oh – that voice!  That accent! He's a fine actor and he knows how to use his voice to great affect to tell his story.  And what a story.  There are two mysteries at the heart of this book, one about himself in relationship to his abusive father, and one about his elusive and absent grandfather. The two parallel tracks work together beautifully, so that at times it was possible to forget that this was the story of a famous actor and to just experience a compelling tale of love and abuse, acceptance and anger, coming of age, and coming into one's own.
A Natural Woman: A Memoir by Carole King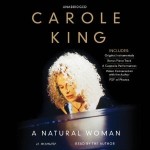 I am a huge fan of Carole King. I was raised on her music by my parents who identified with her scrappy Brooklyn, Jewish background. She even went to the same high school as my father. I have all her albums, including "Really Rosie," and loved the broadway show based on her life story. But the book is disappointing. Her story itself is interesting, as in "nice Jewish girl makes good" and her experience in the music industry, especially in the early years of rock and roll, is fascinating.  There are some great details along the way, like the fact that she was a freshman at Queens College with two other Jewish kids who also liked to sing named Artie Garfunkel and Paul Simon. She certainly had admirable amounts of pluck, chutzpah, and self-confidence that got her far.  And to be fair, the story she tells isn't all one of happiness and success – she is open about some of the painful details of her life.  But Beautiful is in serious need of a strong editorial hand, or a better ghost writer. It is cliched and way too long, and even the interesting parts are so poorly written that they come out sounding trite. And as much as I love King's singing voice – and there are some highlight moments throughout where she breaks into song by way of illustration – this is one case where the author does no favor to the listener by narrating her own story.