Looking for some good holiday reading, or some presents for the readers in your life? Here is a round up of some recent good books I've read. In the last edition of Some Good Books, I started a rating system. See below for more info about the ratings. Enjoy!
A Little Life by Hanya Yanagihara ©©©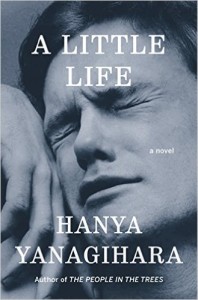 This book is quite literally breathtaking. Shortlisted for the Man Booker Prize and a National Book Award finalist, it was my personal top choice for the winner. This book will make you gasp with pleasure, with pain, with sorrow, with anger. This is one of those books that will change whomever encounters it. There will be the before you read it, and the after. It is incredibly gorgeous, but exquisitely painful. You can't put it down, but it hurts to read it. The narrative follows a group of men, friends from an elite New England college, who stay closely connected to each other as they build lives and careers. There is an almost fairy tale quality to their stories on one level, as each one achieves significant success in his field. But even their privilege, whether inborn or hard-earned, can't make them immune to pain and to the damage that people can inflict on each other. This is a book about love, about friendship, about trust, and about trauma that looks at the best and the worst of human behavior. Yanagihara digs deep into our capacity to wound, to nurture, to heal, to care, to cause harm. Do not read this looking for an uplifting story of redemption and recovery. Rather, this is a story in which the trauma is so bone deep that even the truest love cannot heal the damage. And yet strangely it is not a book without hope even in the midst of suffering.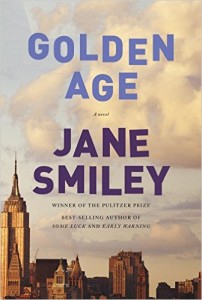 The third, and sadly, final book in Smiley's Last Hundred Years Trilogy continues the march forward of the Langdon family as they continue to bump up against realities of the time in which they live. At the risk of being overly grandiose, there is something almost sweepingly biblical about the trilogy, with its spare writing and ability to depict dramatic change through the small details of individuals lives.  This hundred year journey depicts the story of a tribe as it makes its way from its Iowa farm origins and spreads throughout the country, with each generation and indeed each family member responding each in his or her own way to the world. The family members are impacted by the events, trends, and developments that occur in their lifetimes: the economy, feminism, drugs, the sexual revolution, psychoanalysis, cults are just some of the factors by which their lives are shaped. War is an especially powerful and recurrent theme, as different generations are impacted by different wars in different ways.  And yet the individuals who make up the now quite extended Langdon clan never completely sever their ties to the land and the primal power of the natural world.  From the centrality of the farm and the lack of control over things like rain and drought in the first book, this third circles back in a near-apocalyptical way to the family farm and the environment.  Climate change, with its attendant fears and impact on human life, looms large in this last book in the trilogy, which depicts a worrisome future not too far away from now. If you haven't read the first two in the series (see review of the 2nd book), read them in the proper order, but do read them!
The Illuminations by Andrew O'Hagan ©©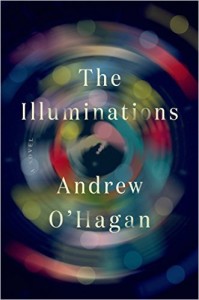 Another Man Booker longlist title, this is one of those books that just quietly sneaks up on you until you're completely enraptured. The story essentially follows two trajectories, one of an older woman Anne, and the other of Luke, her grandson. Anne, now battling old age, is someone who was almost famous – a pioneering photographer who garnered some attention in her time but has been long forgotten. Her grandson Luke is a soldier in Afganistan whose mission has gone seriously off course. When Luke was a child, Anne had taught him how to see beyond the ordinary into the extraordinary, a bond which still unites to two. Their stories reconnect once Luke returns home and comes to visit his grandmother, taking her on a journey which stirs up her past and his present, and illuminates that which has been hidden. Without veering into sentimentality, it is a tender tale of a pairing not seen often in literature, that of a grandmother and a grandson.
Fates and Furies by Lauren Groff ©©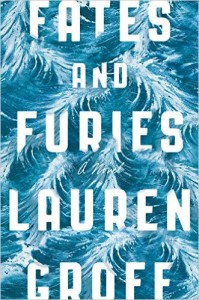 Get ready for a gyrating tale about marriage and the tales we build about ourselves and those we love. The book, a finalist for the 2015 National Book Award, is divided into the first half, Fates, and the second, Furies, as it chronicles the lives and marriage of the two central character, Lotto and Mathilde. Fates focuses on Lotto, and what better name for this character. Does he make his own fate, was it predetermined, is it all just a game of chance, or was it shaped behind the scenes by one of the powerful women in his life? Is his creativity really his, is it well deserved, or just luck? Furies shifts to Mathilde, who is revealed to be someone quite different than she seemed when she was the subject of Lotto's narrative. This is a fascinating, at times grim, but always powerful story of passion, determination, manipulation, and our human tendency to see what we want to see in those around us.
 The Moor's Account by Laila Lalami ©©©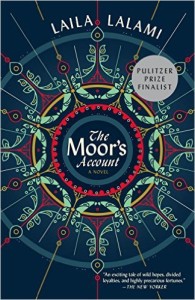 This book has a serious pedigree: it is a Pulitzer Prize Finalist, longlisted for the Man Booker Prize, and winner of the American Book Award. And the accolades are well deserved.  This account by a black Moroccan slave provides an untold perspective of the colonization of the Gulf coast of the what is now the United States by Spanish conquistadors in the 16th century. The writing is gorgeous, with lush descriptions of both people and place, and the relationships between the characters are fully drawn in all their complicated richness. In the course of their perilous journey, the narrative deftly explores questions about the constructs of race, class, gender, and power, and of course colonization.  This book is part adventure tale, part historical fiction, part a meditation on the notions of civilization and culture, part just a beautiful work of writing that will get its grip on you and not let go until you've read the last page.
Untwine by Edwidge Danticat ©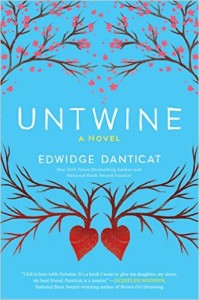 Danticat's last book, Claire of the Sea Light, was among my favorite books of the past few years. Untwine is a YA novel, and anyone looking for the magic of Claire will be in for a disappointment in comparison. But once you understand that it indeed meant to be in the YA category and adjust your expectations accordingly, there's a lot to love here in this heartrending story of two identical twins, and the aftermath of a terrible car accident. In the face of tragedy, this book elegantly asks the question of how do you keep on living when half of you is suddenly gone? How do you understand who you are when your whole sense of self has changed in an instant? The intergenerational family relationships are beautifully brought to life and provide the life-affirming underpinning of this tragic story.
A Spool of Blue Thread by Anne Tyler ©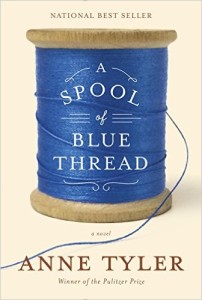 There were moments that shone in this intergenerational family story, but overall this book was only fine. Not terrible, but not great. Just fine. I am not, admittedly, a great fan of Anne Tyler's novels, but its designation as a Man Booker shortlist title intrigued me. I read the book wanting to be surprised, but alas, that did not happen. This novel covers several generations of the Whitshank family, and centers around a house built originally by the family patriarch. Perhaps this book suffers from having been read in close proximity to Smiley's Hundred Year Trilogy, which similarly tells the story of several generations of a family and not a house but a farm (see above). But where Smiley's account had depth and nuance, Tyler's feels tired and predictable.
Rating System
© – Good Book, but I wanted it to be even better
©© – Great Book, deeply satisfying
©©© – Amazing Book, dazzling, blew me away