It's been a rainy few days and we all know there's nothing better in the rain than settling in with a good book. Here is a round up of some recent good books I've spent some time with.  This is a mixed bag of some newer and some not-as-new titles, but all were good reads. See below for more info on the rating system. Happy reading!
The Children Act by Ian Mcewan   @@@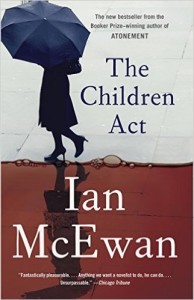 This one is a breathstopper. The writing is gorgeous, and the plot thick, complex, and engrossing. Fiona Maye is a family court judge in London in the midst of a complicated case involving a very sick young man who has not quite reached the age of majority and whose parents do not want him given a life-saving blood transfusion for religious reasons. She must grapple with the intricacies of the case as her husband of many years leaves her for another (younger) woman. Fiona is a densely written character who thinks intensely about the ethics of this case and others. Mcewan deftly takes readers on a journey into a fascinating legal mind that is driven by fairness, a sense of integrity, and a love for the law at its best. As she struggles with what it means to be a successful, childless woman who has prioritized her career over other kinds of choices, Fiona must also face the aftermath of her decision in the case of the sick young man. What does success mean when your husband goes looking for something/someone else? How can she tell strangers how to live their lives when her own is a mess? How can she adjudicate relationships between parents and children when she has none of her own? What does her own happiness mean and how can she realize it? Who has the right to decide whether someone lives or dies, and what must she do with that power? Mcewan gives his readers a lot to think about in this powerful novel that weaves together the personal and professional in a powerful way.
Mayumi and the Sea of Happiness by Jennifer Tseng   @@@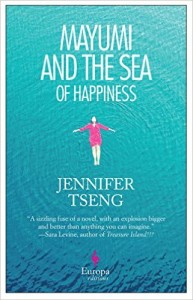 Tseng took a dive into the deep end in this novel about a middle aged woman's need for intimacy and sexual fulfillment. (Ok, middle aged might be a bit of a stretch – she is in her young forties but refers to herself as middle aged). Mayumi is a part-Japanese librarian living year round in a New England island summer community that expands in the summer and contracts in the winter. The island and sea metaphors run deep throughout this novel and highlight Mayumi's solitude. She is in an unsatisfying marriage with a man with whom she barely interacts. He sleeps alone in one room, and she sleeps with their young daughter, Maria. One day a teenager walks into the library. Mayumi quickly develops a  crush on him, and sets out to interact with him as much as she can. She craves any contact she can have with him, even if it is just checking out his books, or making a reading recommendation. She meets his mother as well, and they become friends of a sort. Her one sided crush on him sustains her for a while, and provides her with a much needed refreshed sense of hope and interest in life. Needless to say, Mayumi and the boy eventually embark on a secret sexual relationship. This is a book that takes women's sexuality seriously. The narrative about their physical relationship is told only from Mayumi's side. With some initial coaching and encouragement, he is able to bring her great satisfaction. One of the fascinating things about this book is that it tells a story rarely told – that of an older woman seducing a young man, a sort of Lolita in reverse. And Lolita, the book, indeed plays a role in this tale, as do many other well known novels that this literarily-inclined character refers to throughout. Mayumi does worry about the ethics of what she is doing, but her drive to be with him and to find pleasure is stronger than any sense of wrongdoing. What is also fascinating in this novel is the language used to express sexuality. Unlike the typical phallic references, subtle and otherwise, that we are familiar with from the vast body of the male canon, Tseng plays with creating a woman-centered imagery, in which windows and door become sexual metaphors, and triangles dot the descriptive landscape. Go, run, read this book!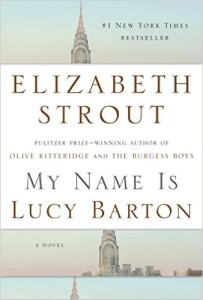 My Name is Lucy Barton by Elizabeth Strout   @@@
Another exquisite novel by Elizabeth Strout. As always, her writing is spare and precise. With few words, she creates a world. Lucy Barton is laid up in the hospital after what should have been a quick and easy procedure. Days turn into weeks and she still cannot return to the home she shares with her husband and daughters. Her estranged mother comes to visit, and the past becomes entangled with the present. This is a quiet story that contains deep emotion right below the surface. Old longings and frustrations peak through the seams. Even in this diminished state Lucy cannot get what she wants from her mother, and cannot redeem her past. The loneliness of late afternoon vistas from hospital windows is interwoven with threads of hope, gratitude, and determination as Lucy Barton considers her past, present and future; in other words, her self.
After the Fire, a Still Small Voice by Evie Wyld   @@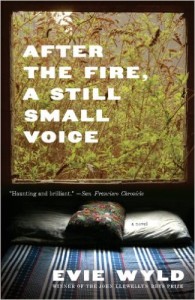 I was motivated to read this after reading another book by Wyld, All the Birds Singing (reviewed here in 2014). After the Fire is is her debut novel (and for my rabbinic friends I'll just say despite the biblical title, this is not a Jewish-themed book) but I was so taken with her elegantly constructed writing that I wanted to try another one. This novel was not as ambitious as All the Birds Singing, but it did not disappoint. Set in the wilds of eastern Australia, there are two main characters with different story arcs. It is not clear until the very end how the stories, and the two characters, Frank and Leon, are connected. At the start, Frank has just been left by a woman and sets out in search of a new beginning back at a cabin that once belonged to his grandparents. Leon is the son of a baker and his wife, immigrants to Australia who eventually leave their son to manage on his own as they set out on a post-war journey of their own. Both are men in search of love and connection, even as they are bruised, solitary figures, flawed survivors of damage only barely hinted at. In both stories, the past rises up to be dealt with, and the jagged edges are intertwined with tenderness.  The cabin is a character of its own, an attempt to create home and order in the midst of chaos. And in the end, the two stories bump up into each other without, thankfully, a neat resolution. This is a writer worth watching.
Tomorrow There Will Be Apricots by Jessica Soffer   @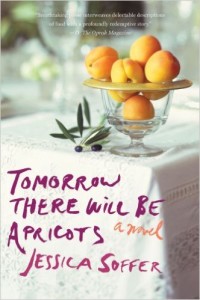 That this novel had to do with both Iraqi Jews and with food intrigued me. I will confess it was a slow start and I almost abandoned it. The food parts of the book were great, yes, but the story seemed at moments disjointed and way too pat. The main character, Lorca, is an adolescent girl in tremendous emotional pain. Severely unmothered, she seeks ways to make her mother, a celebrated chef, notice her and be grateful for her. She sets out to make what her mother has said is her favorite dish of all time, a fish dish called masgouf. For a time the book has a YA feel to is, a tortured coming of age story with painful details and angst but without a lot of depth. This is not by any means a happy story, but even so, the lucky coincidences seemed to pile up too fast and too neatly. But then it takes a turn which makes it much more interesting; it turns out that this is not actually about coincidences at all but about the power and pitfalls of wishful thinking, and about finding love where you can get it. Despite what it seemed like at the beginning, there is no magical happy ending, not everything gets resolved, and redemption is still somewhere in the distance. In the end, it was worth the read. And as an added bonus, the fish recipe central to this tale is included at the back.
Rating System
© – Good Book, but I wanted it to be even better
©© – Great Book, deeply satisfying
©©© – Amazing Book, dazzling, blew me away