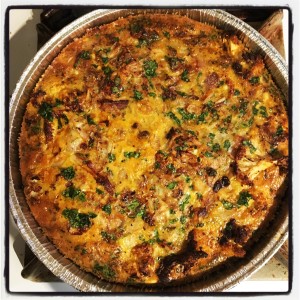 This year there will be an additional vegetable dish on my seder table, a colorful, savory roasted cauliflower pie called Nevertheless, She Persisted. It's an homage to the too-often underestimated cauliflower, as well as a shout-out of gratitude to the women who persist every day, under all kinds of conditions, and often against those who underestimate their strength.
Passover only comes once a year but it is a defining piece of what home means to me. Over the years I have figured out how to cram the maximum number of people in my house for seder. It's admittedly not the most comfortable seating, it's crowded and noisy, but the guests keep coming back so it can't be too terrible. When I was briefly thinking about moving last year, one of the main considerations of a new place to live was that it be large enough for seder. A crazy consideration given that it's one night a year, but there it is.
I prepare for weeks, with everything spreadsheeted out, lists made and crossed off, multiple runs to different stores, the freezer at full capacity. I bow in humility to those who do it all in two or three days. Me, I can't do it without major obsessive planning and preparation.
The menu stays more or less the same from year to year, with a few innovations here and there that get woven into the mix. It's a meat meal, for which this vegetarian concedes to cook (meaning: buy, touch, and interact with) meat in act of love for the family and guests. I've never tasted my brisket, but they seem to like it and ask for more.
While the menu hasn't changed much, what has changed dramatically in the last few years is the definition of family. In recent years, and in what felt like one fell swoop, I went from being part of a grouping of four, to one. As a result, I've begun to think about ways to keep the seder familiar, while also making it more "mine".
So this year I decided to try something a little different. I'm still making all the standards that appear on the menu every year, but I'm adding something for myself.
I've been asked by many over the last few years if I was going to move, if I was going to sell my house, if I was going to stop doing seder. Isn't it a lot to manage by myself, I'm asked. And the answer to all of those is – yes, it is a lot to manage, all of it by myself, but no, I'm not moving and I'm not giving up hosting seder. Maybe someday, but not yet. In the meantime, I'm learning, and I'm adapting. My skill set has grown dramatically, as has my toolbox, both literally and figuratively. My ability to graciously accept help when it's offered has also increased, and I'm learning that paying for help is sometimes ok as well.
That brings me back to the cauliflower pie. Though it's often overlooked and certainly often overcooked, cauliflower is quite a glorious, versatile, and nutritious vegetable. This new dish for my seder table is a bold, colorful, and fiery dish that draws on spices from different pockets of Jewish history and is deeply satisfying, while being fairly light and healthy (it's also carb-free, and therefore gluten free). From my perspective, there's no such thing as too much cauliflower, and it's a good antidote to the usual heavy, meat-focused Passover dishes. And given the state of the United States at the moment, there's also no such thing as paying too much attention to women's roles, women's voices, women's rights, and our bold, colorful, fiery persistence against those would underestimate our strength.
Roasted Cauliflower Pie
2 heads of cauliflower
3 Tbsps sweet paprika
1 Tbsp cumin
4 shallots, chopped
4 garlic cloves, chopped
Olive oil
8 eggs
2 Tbsps chopped parsley
salt and pepper
Cut cauliflower into florets. Place in Ziploc bag with 2 Tbsps paprika, cumin, salt, and olive oil, enough to coat the cauliflower. Close the bag and shake until all the florets are a nice reddish yellow.
Oil a cookie sheet and toss the cauliflower onto the pan. Spray some oil on top of the florets as well. Roast at 425 until they're starting to brown.
While they're roasting, sauté chopped shallots and garlic in oil until golden.
In a bowl, beat eggs. Add in chopped parsley, shallot and garlic mixture, and remaining Tbsp of paprika. Add salt and pepper. Mix well.
When cauliflower is roasted, placed into oiled baking dish. Pour egg mixture on top and make sure all the cauliflower is covered.
Bake at 350 for an hour or until all the egg is cooked and browned at the edges.