Sometimes escaping into a good book is just the right thing to do. To that end, here are some good books to explore as the weather gets colder and the world gets darker. Unintentionally, there are interconnected themes in this particular group of books which make them interesting to read back to back. There's a lot about mothers and daughters, or the absence of mothers and what that does to daughters. There are also connected threads about what it is to be a girl, and what it is to be an adult woman. And in the midst of all that, there's one very brawny, very masculine book. There's so much work to be done in the world, but time to renew and refresh the soul and the imagination is important too. Grab a blanket. Dig in.
The Summer Without Men, by Siri Hustvedt  ©©©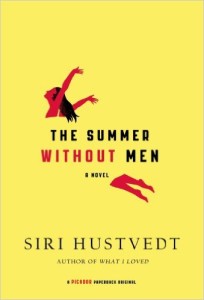 Poet Mia Frederickson is forced to re-examine her life after her husband of many years surprises her with the news that he wants to take a break from their marriage. After a breakdown and hospitalization in a psychiatric ward, Mia goes to spend the summer in her hometown near her mother, a resident in a senior home. The book brings together interwoven strands of Mia's life that summer, as she gets to know women at different moments of the life cycle. There is her mother's group of friends at the home, known as the Five Swans, fiery, creative, and opinionated women at the end of their lives who have created a new community with each other out of loss and change, one of whom Mia creates a particular bond with. There is her younger neighbor, a mother of two small children in a bad marriage to an angry, mostly absent man. And then there are Mia's poetry students, a group of adolescent girls who prey on each other's vulnerabilities while trying to articulate their angst and aspirations. It is all of these women, as well as Mia's daughter back home, who are present in the summer landscape of Mia's life as she tries to pick up the pieces and figure out what comes next. As the title indicates, men are offstage, though the shadow of Mia's husband looms large. So too does another disembodied male, Mia's mysterious philosphically-inclined texter. This brainy, literary novel is full of well-placed references to books and poetry, but it's really about the texture of women's lives, and the role of men in those lives.
Hystopia, by David Means  ©©©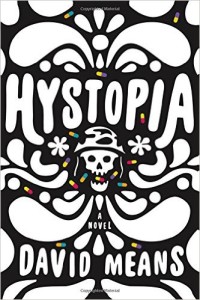 This Man Booker longlist title is a hard but rewarding read. This is a book within a book, ostensibly written by returned Vietnam vet Eugene Allen who needs to find a way to give voice to his wartime experience as well as personal pain. The period is the late 60's, and JFK is still the president, having survived several attempts on his life. The country, like its president, is wounded and grim, hopelessly enmeshed in Vietnam for the foreseeable future. The government has established the Pysch Corps, an agency assigned with managing the mental hygiene of a traumatized nation. An complicated system, involving drugs and therapy, has been developed to help returning soldiers deal with their horrific memories and emotional scars. Meanwhile Michigan has been set aside as a territory for those vets too shattered by their Vietnam experiences to function in open society. The plot is complicated and circular, but the themes of freedom, memory, and trauma create a powerful vision of the destruction we cause not only to those we fight in wars in faraway lands but also in our own society while at war. There's a macho, muscular quality to this novel which fits well into the war novel genre, but underneath that is some real tenderness.
The Mothers, by Brit Bennett ©©©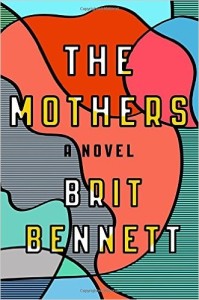 This soaring first novel by Bennett is, as the title reveals, about mothers. The lack of mothers, poor mothering, the inability to be a mother, good mothers, communal mothers, the choice not to become a mother, the unexpected reality of motherhood. All kinds of mothers dance through the pages of this novel about Nadia Turner, a now motherless teenager about to go off to college. Nadia's mother has abandoned her, taking her own life without even leaving a note or a clue to why. Nadia knows that her mother's own life took a sharp turn when she accidentally became pregnant with Nadia, and she is tortured by the idea that she was her mother's undoing. Their church, the Upper Room, is the center of their small black community in Southern California. Nadia's father is a regular at the church, where there a group of older women, the mothers, who look after the community. Their voices form a kind of Greek chorus throughout the book, commenting on what they say and what they think they know. Nadia has a summer fling with Luke, the pastor's son, who walks away from her when she becomes pregnant. This sets off a chain of events that impacts on many lives around them. During that last summer at home before she sets off for the rest of her life, making it out of the community due to her intelligence and good grades, she becomes fast friends with Aubrey, another motherless girl. But their lives are full of secrets that grow in the spaces left by their unmotheredness, until the secrets spill out and threaten the stability not only of their lives but of the lives of the church and the community. Bennett has created a compelling story and strong characters, and there are some amazing lines that make the whole book worth it even with those other plusses.
The Girls, by Emma Cline  ©©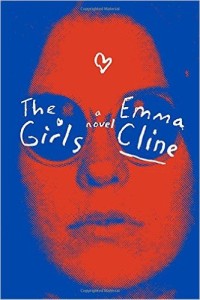 Evie Boyd is a bored, awkward teenager in California in the late 1960's.  Her parents are wrapped up in their own post-divorce lives, and don't have a lot of time for her. Meanwhile the wold is in upheaval and societal norms are being questioned out beyond the confines of Evie's existence. She yearns for something more meaningful than her mercurial friends and the embarrassing crush she has on her best friend's older brother. When she comes across a group of older girls living in a nearby commune led by a charismatic man, she is attracted to the thrill of being part of their group. She is drawn to their abandonment of norms, and their aura of freedom. There is one girl in particular who fascinates her, Suzanne, on whom she develops an obsessive crush. She so wants her approval and attention that she will do anything Suzanne asks. Craving acceptance and nearness to Suzanne, Evie becomes increasingly drawn in to the group and their unique approach to right and wrong. What starts with a sense of summer-camp like fun becomes increasingly desperate and dangerous, until she winds up in the middle of the kind of horror from which there is no coming back. This novel manages to both portray the quotidian loneliness of a teenage girl and her desire for approval, while also depicting the kind of group-think that leads to acts of terrible violence.
Eileen, by Ottessa Moshfegh  ©©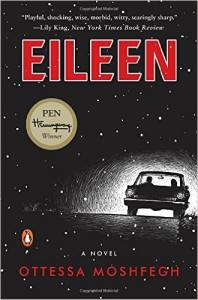 Shortlisted for the Man Booker Prize, this strange, creepy novel was a gripping read. On the very first page the narrator tells the reader that this is story of how she disappeared. There is no suspense, therefore, in the final outcome, but there is great suspense in the how and why. The main character, Eileen Dunlop, lives with her abusive, alcoholic father. He is delusional, a retired cop who sees people out to get him in the shadows. He can't be trusted to go outside and so Eileen hides his shoes in an attempt to keep him at home, running out to the liquor store as needed to keep him well-suppplied with gin. Their life together is one of misery, played out against a backdrop of Eileen's mother's death, a disgustingly dirty house, mean spirited conversation and accusations, and repressed urges. Eileen works as a secretary at a private correctional facility for boys, where she is essentially ignored and overlooked. Her friendless life is about as grim as possible until a new teacher arrives at work. Rebecca Saint John is everything Eileen is not – beautiful, charming, captivating. Eileen is completely taken in by Rebecca's attentions. She is so enthralled, hungry for companionship, and flattered by Rebecca's interest in her that she gets pulled in to a scenario beyond her control. That fateful event provides the spark that Eileen needs to instantly leave her life behind forever. It is only as a much older woman that, as the narrator of this story, she looks back and remembers what was.
Hot Milk, by Deborah Levy ©©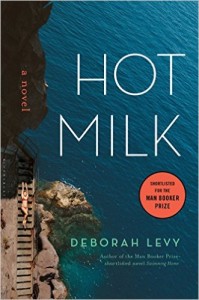 This novel about a tortured and torturing relationship between a mother and daughter was another Man Booker Shortlist book. Reading this book was a claustrophobic experience, which may admittedly say more about me than the book itself, but it was not a pleasurable read. But I can see why it's gotten so much praise. This is a textured, smart book about the power of mothers over daughters, and about the need for daughters to break free. Sofia is a mess, an anthropologist whose life is stalled. She spends her days caring for her mother's endless maladies and trying to figure them out. These maladies are described in such a way that it really isn't clear whether her mother is indeed quite sick physically, or if the issues are primarily psychological – and it doesn't really matter because either way, her mother is in charge. Her mother, abandoned by Sofia's father, can't walk, among other things. She has literally lost the ability to move forward without Sofia's help. They travel to a special clinic on the sunny coast of Spain for treatment, and while there Sofia begins to consider her own needs and write her own future. The deeply stifled rage of each of the main characters radiates off the pages. That this was a painful read surely attests to the power of the writing.
Rating System
©©© – Amazing Book, dazzling, blew me away
©© – Great Book, deeply satisfying
© – Good Book, but I wanted it to be even better