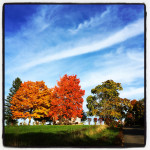 When my kids were growing up, we put up a sukkah every year. It wasn't necessarily the most beautiful or creative sukkah, but there it was, in our Brooklyn backyard. In the last few years, as my life has taken some unexpected turns and the kids have gone off to college, I haven't had a sukkah. But that doesn't mean that I can't bring Sukkot to my table. A weekend spent in the midst of the beautiful fall foliage in Massachusetts was a great opportunity to bring some fresh squash home.  This hearty and aromatic fall dish is a perfect addition to a Sukkot meal. It will also make your kitchen smell amazing.
Balsamic Roasted Squash with Pear and Pecans 
Preheat oven to 425.
1 medium to large delicate squash
1 large, firm pear
1 onion
1 Tablespoon baharat (a middle eastern spice blend that typically includes cinnamon, cloves, allspice, coriander, cumin, and pepper)
2 Tablespoons crumbled pecans
2 teaspoons balsamic glaze
Olive Oil
Salt and pepper
Parmesan, Romano or Asiago slivers (optional)
Cut all vegetables into medium chunks.
Coat baking dish with olive oil.
Toss vegetables with additional olive oil, baharat, salt and pepper to taste.
Bake until vegetables are nicely browned and soft, about an hour.
Remove from oven and sprinkle with pecans.
Top with ribbons of balsamic glaze.
If wanted, toss cheese slivers on top.
Enjoy!