Summer time hopefully means more time to read. Here is a round up of some recent novels that have been keeping me busy.  A few are big, weighty books (and I don't mean their physical size), some have more modest ambition. But they're all worth a read. For more on the rating system, see below.
The Year of the Runaways by Sunjeev Sahota ©©©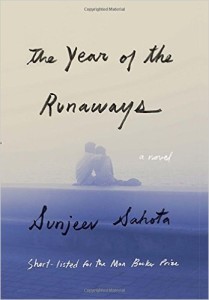 This Man Booker short-listed novel follows the fortunes, or misfortunes, of a group of four young Indian immigrants to England. Each of their stories is followed from India as they try to make new lives and new identities in a generally inhospitable and strange environment. These interwoven stories are poignant and heartbreaking, each in its own way. The characters each want, and need, different things; they are each moved to act by different motivating factors. Along the way they bump up against each other and their stories become intertwined. In the end, each  finds a way out of the challenges of hunger, loneliness, and hopelessness, though in unexpected ways. These are both coming-of-age stories, and the familiar territory of grim immigration tales. Yet neither of those descriptions does justice to the painful journeys of all four of these young people trying to make their way in an uncertain world, the weight of familial desperation,  geo-political realities, religion limitations, and cultural expectations on their shoulders.
Gold Fame Citrus by Clair Vaye Watkins ©©©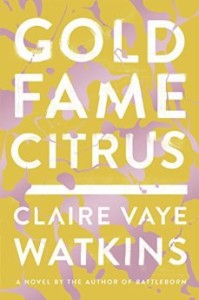 Since this book was named best book of the year by the Washington Post, NPR, Atlantic, and many other news outlets, it jumped its way up to the top of my to-read list. This novel portrays a terrifying dismal dystopian future in the United States of severe shortages and drought. Southern California is a ruined, parched, unsustainable ghost of its excessive past now under military control. The two main characters, Luz and Ray, subsist as squatters in a former starlet's mansion full of useless luxuries but few necessities. They dream of heading east but the trip through the western states, now one enormous shifting dune sea devoid of life, is dangerous and unsanctioned. But when they come across an odd toddler and take her under their care, they decide to do what they can to improve their chances of a future, and they set out across the desert. Part adventure saga, part apocalyptic nightmare, part cautionary tale, this story of their trek and the people they encounter in the wilderness is a fantastical futuristic journey. There are echoes of some of the best of Ray Bradbury's martian landscape imaginings, except that this is all the more terrifying for taking place in the United States of a very close future. Beyond the narrative arc of the individual characters, this novel presents a vision of what could be that is as highly original and compelling as it is disturbing. The descriptions of the world Luz and Ray inhabit, what they see along their trip, the charismatic leader and his tribe that they encounter, and in particular the Amargosa Dune Sea, are rich in imagery and imagination, simultaneously horrific and terrifyingly gorgeous. This book truly is a must-read.
Valley of Strength by Shulamit Lapid ©©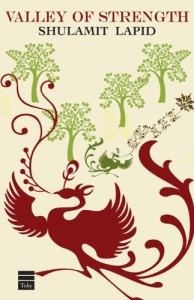 I read this novel in Hebrew years ago, albeit haltingly, so I was excited to see it in English. It is a classic of Israeli literature, a beautifully told tale of the Jewish settlement of the Galilee in the 1880's. As a historical novel, it provides background about the backbreaking work involved in creating what eventually became Rosh Pinnah. It is rich with depictions of the intellectual battles fought at that time over the different settlements, and the ideologies, finances, and politics behind them. The narrator Fania is an immigrant from Russia, a survivor of a progrom in her hometown that killed her parents and left her pregnant at 16. Upon arriving in Jaffa she meets Yehiel, who takes her home with him to a settlement known first as Gai Oni to help him raise his two children, whose mother has died. In Israel this novel is seen as an early feminist work, as Fania is an independent woman who goes against communal constraints in a number of ways, including creatively finding opportunities to help her family's finances. Though the translation seems a bit abrupt at times, it is well worth the read for the underlying love story between Fania and Yehiel, and for the way it brings to life the reality of that time in the history of the country that comes to be Israel. It was a good reminder that any romanticized image we have today of all the Jews getting along and working together to establish Israel was as untrue then as it is now – the story is filled with fights and arguments between all the various Jewish groups on the basis of ethnicity, religiosity, and ideology. This is a must-read for anyone interested in Israeli fiction, women's fiction, and a peek into early modern Zionism.
The Heart Goes Last by Margaret Atwood ©©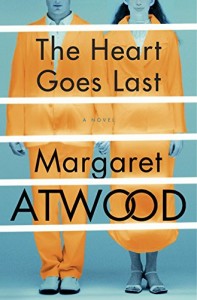 In another, but completely different, dystopian future, resources are extremely limited. Jobs have dried up and the cities have descended into chaos. Gangs roam freely and no one is safe. Charmaine and Stan live in their car, having had to give up their house, and though Charmaine is lucky enough to have a job at a strip joint, they are barely surviving. Charmaine learns about Consilience, a planned community which guarantees employment, housing, and safety. She convinces Stan to join up and be part of this visionary community which she sees as their way to have a secure future. Consilience is based on the premise that its members spend half their time living and working in the town, and half their time as voluntary prisoners in the town's jail. Residents share apartments, with one couple in place and the other in jail, back and forth. They are sold on the idea that this isn't a regular prison – there are no scary or violent prisoners, and it's all rather civilized and pleasant. But there is a terrifying underbelly to this grand vision which becomes clearer as the novel progresses. Each in his or her own way, Charmaine and Stan get caught up in what is really going on behind the scenes of the placid every day life of Consilience. On a human scale, this novel poses many questions about love, control, passion and compassion. But is also poses some of the big questions that underlie many works of dystopian fiction: what happens to our society when human lives and human rights are sacrificed on the altar of the profit-driven insatiable greed of big business? This novel can momentarily veer into predictability and preachiness, but it is generally smart, well crafted, and wonderfully imaginative, and well worth a read.
The Betrayers by David Bezmozgis ©©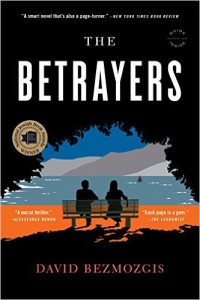 This complicated, complex novel about a former Russian dissident who is now a disgraced Israeli politician was a winner of the 2014 National Jewish Book Award and received much praise from other corners as well.  Baruch, formerly Boris, has left Israel and his family in the middle of a tense political moment, running away to the resort town of Yalta with his young mistress. While there, he comes across the very man who had sent him to the Gulag many years earlier. The past rises up to meet him, shedding light on the principled but flawed man he has become today. He encounters his betrayer at the very moment that he himself has betrayed his wife and children and made off with his mistress. He must come to terms with the trajectory of his life and the result of choices he made as a young man as he faces his own aging. The framing of this novel is about the good versus the bad, the right versus the wrong, truth versus lies, youth versus age, and yet nothing, and no one, is all one and not the other. Someone who has spent his life on the side of justice and truth, a man who can't be blackmailed, a man whose life has been shaped by big ideas and taking stands on often unpopular beliefs, is the same man who has let down those closest to him, his wife and children. Funny, poignant, slightly snarky, sometimes uncomfortable, and highly intelligent, this is well worth the read.
The Glass Wives by Amy Sue Nathan ©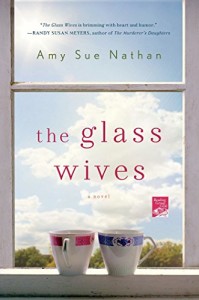 This book is based on a great premise. Richard Glass has died suddenly in a car accident. He leaves behind a wive, their baby, and an ex-wife and their twins. The wives are not friends, which is understandable since Richard was involved with the second wife while still married to the first. Anger, hurt, and frustration ensues, and there is some welcome humor in the midst of the family's grief. The ex-wife, Evie, would like the second wife, Nicole, to go away and leave her alone. But out of financial need, sorrow, and the wish to keep their children (who of course are siblings) connected, they wind up joining forces  and creating a new kind family. It is somewhat less Hallmark-y than it sounds though it does lean in that direction. But the writing does not soar; the novel lacks  the kind of sparkle and nuance that would lift it beyond the level of just a good story.
The Promise by Ann Weisgarber ©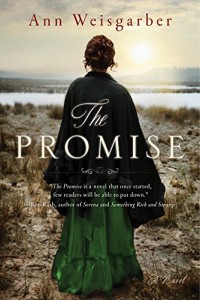 If you're looking for some enjoyable historical fiction for your summer reading, this is a good one. This novel tells the story of the terrible 1900 flood in Galveston, Texas, in which thousands of people were killed in one day. Told from two points of view, the place and the time come to life. At the heart of the novel are two very different women: Catherine, a talented and Oberlin educated pianist who has committed adultery with a married man in Philadelphia and is now being shunned for it, and a local woman, Nan, who only knows this reality. Out of desperation, Catherine renews correspondence with an old acquaintance, Oscar, who has a young son and has just lost his wife. He invites her to join him at his farm outside of Galveston as his wife, and out of desperation, she agrees. Nan meanwhile is ensconced at Oscar's, looking after him and his son as a promise made to the deceased wife, who had been her dear friend. Once Catherine arrives, naturally the two women clash in classic city mouse versus country mouse style. As Catherine acclimates to a harsher life than anything she has ever known, real love develops between her and Oscar, and she begins to make inroads with his son, but things remain complicated between the two women. All of this is backdrop for the big storm which quickly changes the course of events for all the people of the Galveston area. The characters and their story are compelling, but the real drama is the storm itself. Weisgarber builds steam slowly so that even though we know what actually happened, the tension builds as the storm rages on, and the consequences still manage to come as terrible surprises.
Rating System
© – Good Book, but I wanted it to be even better
©© – Great Book, deeply satisfying
©©© – Amazing Book, dazzling, blew me away