Welcome to His Brother's Keeper, a fictional mystery series set in 2000, in New York. I've decided to periodically lend my blog to a friend, Eva Hirschel. Eva doesn't have a social media presence but she does have a mystery that she wanted to publish serially on-line, so I'm giving her a hand. (If you're just tuning in now, I suggest that you start at the beginning). Here is Part I, Chapter 4. Enjoy!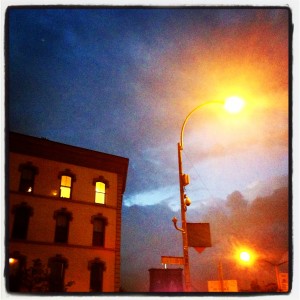 The saxophonist and the clarinetist were going at it, playing away at breakneck speed.   The fiddler joined in, showing off her virtuosity. Their bodies swayed back and forth to the music as the singer belted out her song. The concert hall filled with the raucous, earthy sounds of Yiddish wedding music. People got up from their seats, clapping their hands to the beat. Simon looked at me and smiled, his big brown eyes lighting up with delight. Klezmer was Simon's favorite music — he said it spoke to his soul. These were the songs he remembered from his childhood, growing up surrounded by Yiddish-speaking grandparents and great-aunts and uncles. So this year for his birthday I got us tickets to see the Klezimites, a band of young, hip American Jews who had discovered a dormant passion for Yiddish and Yiddish music. The band members looked as downtown as you could get, with their black jeans, high top sneakers and multicultural caps, but they definitely had old Eastern European souls.
Looking around at the audience, I marveled at what a funny creature the New York Jewish community was. The concert was taking place after sundown on a Saturday night, so as not to exclude or offend any traditionally observant Jews. And there were indeed some in the audience, as evidenced by the kippot sprinkled here and there, and the few women with covered hair.   Some of the older audience members nodded along and smiled nostalgically like they really knew all the words. But the majority of the audience was young people, in their twenties and thirties, who, like me, had discovered klezmer music as adults. I had grown up with some Yiddish expressions mixed in with standard English, but certainly no real Yiddish substance and no Yiddish culture. Here we were, paying money to come hear the music that our grandparents had loved but that our parents had rejected as old-fashioned and embarrassingly unsophisticated. As the Jewish community aged, Yiddish was supposed to be a dying language and Yiddish culture replaced by homegrown American Jewish culture and Israeli imports. Yet Yiddish was experiencing a revival of sorts among young Jews, who were studying it in universities and in summer programs, and who were infusing Yiddish music with new life.   Ronit, our Israeli au pair, could not understand the attraction to this music at all. For her, Yiddish was the past, the European ghetto from which Jews had escaped. Whenever we played a klezmer CD at home, she would cringe, then politely apologize.
The band was playing a slower song now, and the audience got resettled in their seats. I didn't understand the words, but the melody and the sound of the language was calm and comforting. At the end of the song, the clarinetist explained that the song was about a mother reassuring a child that everything will be all right, that no harm will come. Then he introduced the next song, a Yiddish poem that the band had set to music. The poem described a town in Poland, where everything was beautiful in the spring when the flowers came out after the long barren winter. The author of the poem had died in Treblinka, and the song was dedicated to the poet. The audience was suddenly still as the hauntingly beautiful song filled the hall. The vocalist sang in a deep, throaty voice that reached right into my gut and filled my eyes with tears. Sensing my change in mood, Simon squeezed my hand.
As the band sang, I thought again about my new mystery client, Sarah Gelberman. The poet and so many others had died, but some had survived and went on to build new lives. Sarah Gelberman was an example of the strange new world miracles that resulted from the upheaval of the war. A fully modern American descendant of a renowned Chasidic leader who, like the author of the poem, died in Treblinka. But the story that Leah had recounted bothered me. If Leah was right, and experience had taught me that she usually was, then there was something important Sarah Gelberman wasn't telling me. But on the other hand, lots of strange stories came out of the Holocaust during the years right after the war. Rumors and miracles abounded. There were South American sightings of those said to have died in the camps. Elijah the prophet was said to have visited those in the camps and gave them messages of hope. Spouses and siblings were joyously reunited. Others who suposedely survived never surfaced again. Even now, long-mourned relatives were still turning up after many years, alive and well. And from a time of such chaos and crisis, how could it have been otherwise? So maybe the rebbe's grandson had in fact survived. What proof was there that he had really died? Were there any witnesses? I pulled my notebook and pen out of my bag, trying to do so without Simon noticing so that he wouldn't chide me about always having my mind on work. While the band played their mournful tunes, I wrote down as many questions as I could think of. Some I needed to ask Sarah Gelberman, when and if she got in touch again. And some needed good, solid research in order to get answered.   It was time to get moving on my new case.
 ***
When we got home, Ronit was sitting on the couch fast asleep, a book open on her lap. Simon gently shook her shoulder to wake her up. She jumped up, embarrassed, and reported on the evening. The kids had gone to bed calmly and happily. The last time she had checked on them, Caleb was on the floor on top of his blanket, at the foot of Hannah's bed. We thanked her, and she went down to her apartment. Simon put the kettle on to make some tea, and I went upstairs to peek into their bedroom. Caleb had moved and was now curled up at the foot of Hannah's bed. He was such a faithful puppy; he adored his big sister. I just hoped that someday Hannah would appreciate him, and more than that, I hoped that they would always be close.
When I came back downstairs, Simon was sitting at the counter. He had a mug of tea ready for me. I was dying to run downstairs and get to work, even though it was almost midnight. But I knew Simon was looking forward to a nice, relaxed night together upstairs. Making me a mug of steaming herb tea was one of Simon's classic romantic overtures. I was actually an unrepentant coffee drinker, but Simon knew me well enough to know that while I love the taste of coffee, part of the reason I drank coffee was to stay awake. When he didn't want me to stay awake too long at night immersed in my work, he would make me a cup of tea. I looked at the mug and I looked at Simon, and we both laughed. We knew each other so well at this point that we both knew exactly what was the other was thinking. Simon sighed.
"All right, Abby, all right," he said. "I saw you scribbling away in that notebook of yours at the concert. I know that if I invited you upstairs right now, you might go through the motions, but your mind would be somewhere in Eastern Europe."
I immediately felt guilty, as Simon's main complaint in our marriage was that I never made enough time for our relationship. But my main complaint was that he wasn't realistic about what our life was like now that we had two children. No other parents of young children I knew had any time for their relationships. Forget sexual fantasies — for most mothers of young children the best fantasy of all was a good night's sleep.
"I just have some questions I want to get answered. Then I'll lay it aside and call it a day. Okay?" I replied, looking into those deep brown eyes that had made me fall in love with him way back when.
He nodded. "What can I do? A woman's got to do what a woman's got to do. Just promise me that if I fall asleep, you'll wake me up."
I agreed, and he leaned over and gave me a long, sweet kiss, reminding me why it might be worth it to not work too long. Then he got up, and taking his mug, went upstairs. I took my tea, and went off in the other direction, down to my office.
 ***
I could access my office two ways. During the day, when the kids were home, I would say good-bye, walk out the front door, go down the stoop, and re-enter the house through the ground floor entrance. But at night, I used the internal staircase that connected the ground floor with the rest of the house. When the house was originally built in 1864, the ground floor was the kitchen and the servants' quarters. Now my office occupied the front half, and the back half formed a small apartment where Ronit and her boyfriend Shuki currently lived, rent-free. Though we missed the rental income, this arrangement greatly reduced our childcare costs.
In the dim light of the hallway, I unlocked my office door and entered. The light from the answering machine flashed red. I pressed the button to listen to the messages, and Leah's voice floated into the quiet room. "Listen, I was thinking about your question, and I have someone you should speak to. His name is Rabbi Springer. He's one of the foremost scholars on the history of Chasidism. Eccentric guy, but brilliant. He knows a lot more than I do about the Halizcher Rebbe. I studied with him in rabbinic school, so feel free to use my name. Good luck, and let me know what happens." She proceeded to leave me his phone number.
Tomorrow I would call Rabbi Springer. In the meantime, it was time to lay out a game plan. I sat at my desk and made lists on index cards. I scribbled down ideas and drew arrows. On other index cards I wrote questions. Next in line was the computer. There were people I would need to wait until tomorrow to contact by phone, but no one ever sleeps in cyberspace.
I don't like wild-goose chases, and I had my suspicions about Sarah Gelberman. There were facts to be verified. I went to whitepages.com and first checked New York City. There were a few Gelbermans, but no Sarah Gelberman was listed anywhere in the five boroughs.   There could be a lot of good reasons that she wasn't listed. She could live in one of the New York suburbs, anywhere in the tri-state area really, and could have still easily made her way to me. She could be a college-student in the area, and wouldn't be listed if she lived in a dorm. She could be sharing an apartment with friends, and the phone could simply not be in her name. She could be living at home, and the phone could be listed in her parents' names. Or, she could have an unlisted phone number. I chastised myself for letting her go without leaving me her contact information. For possible future reference, I printed out a list of all the Gelbermans with New York City phone listing, just in case, but I was already frustrated that I hadn't easily found her.
Next I checked for any Jack Gelbermans. There were none listed in New York City, though there were two J. Gelbermans, a Jeremy, and a Jill.   I directed the search to Winter Park, Florida, and bingo – there it was! Jack Gelberman, just where Sarah had told me he lived. Well, at least she told me the truth about that. I printed out that listing as well.
With that information, I was able to go to another site and request the social security number of Jack Gelberman. The Social Security Administration wouldn't give out that information on people who were alive, but there were private companies who weren't obligated to play by the rules of the Federal Government. I had an account with one of these companies; they were quick and reliable, if not entirely ethical.   All I had to do was give them someone's name, address, and agree to have $24.95 charged to my VISA bill. Twenty-four hours later, I would have the number. I wasn't sure I'd want someone to be able to get a hold of my social security number so easily, but I was glad I was able to get the information I needed.
Then it was time for Jewgensearch.com, a genealogy website.   One of the amazing features of Jewgensearch.com was that it allowed users direct access to an on-line genealogical database. This database had actually been created by the Mormons, for whom genealogy has a strong religious component. Many Jews were able to research their family trees courtesy of the Mormons, who were working on creating an enormous database of everyone who was living or had ever lived. However, they had not yet managed to include absolutely everyone, and I was unable to find Gelbermans who seemed to be related to my new client.
A search of Chasidic-related websites proved to not be much more fruitful. I did not uncover anything about the Halizcher Rebbe, though I did learn a little bit about the Baal Shem Tov, the founder of Chasidism. If the Halizcher Rebbe had been even a quarter as charismatic as the Baal Shem Tov, he must have been quite a man. I became entranced by a website dealing with the miraculous healing powers of the Baal Shem Tov and when I next glanced at the clock it was 2:30. Turning off my computer, I stacked up my pile of index cards and went upstairs to wake Simon.
[To be continued…]