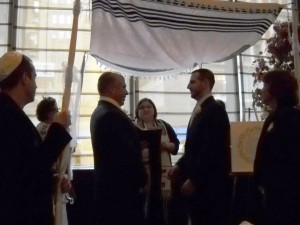 One of the first things I did after getting the New York Times text alert about the Supreme Court Marriage Equality decision was to call my cousin Larry. It was an instinctive reaction. No matter that I was navigating my way to Newark Airport to make a flight, and that I had to call work to launch our prepared response to the ruling – my first thought was to call Larry.
In 1980, when I was a senior in high school and he was a sophomore in college, Larry and his family were visiting me and my family in St. Petersburg, Florida over Christmas break.  We went out to a bar one night (I was only 16 but the drinking age then was 18, not 21, so whatever…). It was a memorable night. We sat at the top of a hotel on the beach in a weird revolving bar. Car lights twinkled below us as the bar moved on its axis. And Larry came out to me.
I don't remember his words, but I remember their power. I remember feeling honored that he had told me, like he had just entrusted me with a fragile piece of himself. I remember hearing the pain in his telling. And I remember thinking that whatever his actual words were, he had essentially asked me to be on his team for whatever lay ahead. Neither one of us yet had the language for this in 1980, but later I would come to understand that he had asked me to be an ally.
I was sixteen at the time but he was not the first person to have come out to me, and he would not be the last.  The first time had happened months before when a beautiful boy I met in a summer program confessed that he actually just wanted to be friends, because he really preferred boys to girls.  My heart was broken for a day or two but healed quickly, and a close friendship developed.
In the hyper-liberal part of Brooklyn where I had been raised, homosexuality was a visible part of the landscape. Brooklyn Heights and Cobble Hill, the neighborhoods of my childhood, were havens for writers and those seeking sexual freedom from the 1930's on, and the intertwined literary and gay histories were still in evidence during the gentrifying 1970's in which I grew up.  (Fun fact: Thomas Wolfe wrote "Only the Dead Know Brooklyn" while living on my childhood block in 1935).
Growing up in my house, in that neighborhood, gay was just another kind of normal. My pediatrician was gay. One of my friends had two moms (even though it did admittedly take me a while to figure that one out – at age 5 I didn't understand why the mommy and her friend shared a bed). My parent's next door neighbors, on their block of restored 19th century carriage houses, were a gay couple who regularly came over for dinner with my parents.  The couple whose backyard was opposite my parents were also a gay couple, one of whom came over sometimes in the evening to give us all haircuts.  A number of the teachers in my school were gay, including one of my favorite teachers who I once ran into and had a friendly chat with as he was leaving a gay bar in the West Village. For the sake of history I would like to think it was Stonewall – it was definitely on that block – but that particular detail might just be too good to be true.  In any case, all of this is to say that in my albeit unusual Brooklyn childhood, gay wasn't "other" – gay was my neighbors, my doctor, my teachers, my friend's parents, my cousin, my friends.
When I was asked, years later, to step in at the last minute as rabbi in Fire Island Pines for the high holy days, a primarily gay community, it felt like home. Creating a life filled with people of different sexual identities has just been the way it is, a comfortable way to live.  Being an advocate for gay rights has always felt natural and right, the honorable, ethical thing to do. As a Jew and as a rabbi, it has felt like a moral imperative and like the living out of my Jewish values of according dignity to all, and the deep belief that all are created in the image of God.
None of this is to say that I've always gotten it quite right. There's been lots of learning along the way.   But I have always tried to show up in ways that matter in both my personal and professional lives.
As a rabbi this has meant marrying gay couples well before it was legal, or enabling the legal marriage of a couple who had already been together for 42 years, or changing language in liturgical and ritual publications to create inclusivity and healing, or making sure that illustrations in books for children depict a wide range of types of families, or being part of a group attending a death so that a beloved gay elder did not pass out of this world alone.
And when New York State legalized gay marriage and Larry asked me to officiate at his wedding to the most wonderful man several years ago, I could not have been more happy and overwhelmed with emotion.
Yes, I know that the fight for LGBTQ rights is not over just because the Supreme Court has legalized marriage equality. My young adult children have challenged me about my excitement over the ruling, arguing that we shouldn't be so excited because there's still so much work to do. They're right that there is certainly much work left to do to bring about full equality, and much hate, fear, and discrimination still to overcome. The rainbowizing of Facebook profile pictures by tens of millions, both gay and straight, doesn't mean the battle is over.  All of this is true.  But this is an amazing moment, a formerly incomprehensible achievement.  It may have seemed inevitable to those born into an era in which every tv show seems to have at least one gay character and tumblrs exist of cute same-sex prom photos, but this moment was unimaginable thirty-five years ago when Larry came out to me. It was unimaginable twenty-five years ago, and perhaps even ten years ago.  Massachusetts, the first state to do so, only legalized marriage in 2004.  It's ok to pause, take a deep breath, and appreciate how far we've come before we get back to work.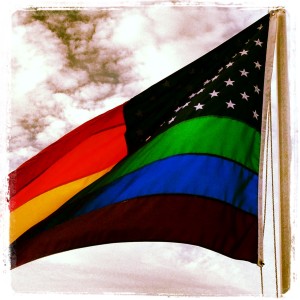 In a text last Friday morning, a little while after learning about the Supreme Court decision, Larry and I remembered that night years ago in that weird bar on St. Pete Beach. I asked him: Imagine if someone had told our teenage selves that someday I would legally officiate at your legal wedding to your wonderful legal husband, under a chuppah, with your friends and family in attendance. We could not have comprehended that reality in 1980. But how much pain would that knowledge have wiped away? How much doubt, how much shame, how much self-destructive behavior, for so many? It is truly incredible how much change has happened just in the course of our adulthoods.
Because of my parents' example of acceptance and openness, because of the school I went to and the neighborhood in which I grew up, because of the people I was lucky enough to meet in high school and college and on into adulthood, gayness has always been woven into the fabric of my life as another kind of normal. Because of the Jewish community I grew up in, and the rabbinate that I'm a part of, acceptance, tolerance, and equality have been framed as core sacred values, ideals of holiness. And now, with this victory, hopefully that will begin to be true everywhere, for everyone. We know that there are still rights to be fought for and minds to be changed.  But with this Supreme Court decision we have taken a huge leap forward into a new normal, not just for those of us who grew up in the rarified air of 1970's liberal Brooklyn, and not just within the ethical framework of Reform Judaism, but all over this country, in states blue and red, in homes of every faith, stripe, and color of the rainbow.