Summer is here and it's time to read.  Here's a round up of some recent good books, mostly fiction and, as an added bonus, one memoir. None are exactly beach novels, but they're all worth a read. Enjoy!
Tell the Wolves I'm Home by Carol Rivka Brunt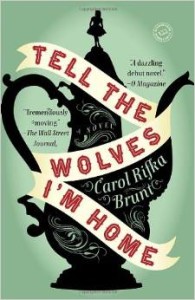 This novel is at the top of this list for a reason. It is a coming-of-age story about a fourteen year old, June, who has a very special relationship with her gay uncle. The story takes place in the mid-80's and her uncle Finn, a famous painter, is dying of AIDS.  When Finn dies and she begins to grieve her loss, family secrets begin to shake loose. In the process, she develops secrets of her own, including a growing friendship with Finn's hidden boyfriend, Toby, who her family labels as a murderer for infecting Finn with AIDS.  The many strands to this tale are interwoven beautifully as June deals with the loss of Finn, her strained relationship with her older sister Greta, her feelings of both anger and love for Toby, and all the attendant struggles of growing up.  The depiction of how AIDS was viewed in the 80's rings all too true.  There is also an interesting and wonderful Oscar Wilde-like strand of this novel which involves a portrait that Finn has painted of June and Greta.  The painting is the linchpin upon which the whole story hangs, as it too develops and changes along with June and Greta.  Brunt's homage to Dorian Gray is an outstanding element in this smart, tender, and moving novel.
The Virgin Cure by Ami McKay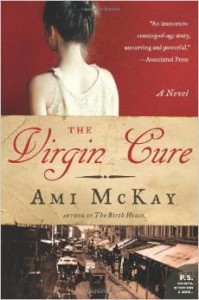 A girl named Moth is at the center of this work of historical fiction. Called Moth by a now-absent father and raised by a Gypsy fortune-telling mother on New York's Lower East Side during the post-Civil War era, she is born into a life of extreme poverty and want.  One day she is sold into servitude by her mother and taken to work uptown for a wealthy but cruel woman. Moth is the kind of plucky heroine that these types of books needs to stay interesting, and she is indeed wily and resourceful. She soon finds herself in training to become a prostitute, at a time when syphilis is ravaging New York City and men of means are on the prowl for young girls who can provide them with the "virgin cure".  Moth grows up quickly as she figures out what she needs to do to survive, and without providing any spoilers, survive she does.  McKay has done a good bit of research about this era, and her insights into life on the Lower East Side, women's lives, women's healthcare, and some historical figures, especially a female physician committed to women's health, make this a worthwhile read. The fact that this physician is based on McKay's actual great-great-grandmother adds a little extra flavor to this dish that, while tasty, could use a little more depth.
After Birth by Elisa Albert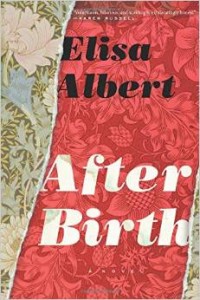 Where to start with this one? For one, if you are a woman and aren't sure if you want to have a child, don't read this novel yet. But if you have had a child, or are the partner of someone who has birthed, absolutely read this book. It would be easy to say that this is book is about postpartum depression but it's so much more than that.  The protagonist at the center of this searing depiction of birth and early motherhood is Ari, who is an isolated, lonely, and depressed new mother.  She lives in Vermont with her husband, an academic, where she has few acquaintances and essentially no friends. She loves her son, Walker, but feels horribly alone in the post-birthing experience. Albert is brutal in her condemnation of the medicalization of birth, the way in which modern medicine disempowers women and disconnects them from their own bodies, and how Western society has disabled the tradition of women mothering one another through the transitions of birthing, breast-feeding, and child raising. One of Ari's contentions is that c-sections are a form of rape perpetrated upon women by the medical establishment.  As a two-time c-section birther, and even though I know that way more c-sections are performed than are medically necessary, some of this felt uncomfortable and even extreme. But that is part of the power of this difficult novel. Albert has masterfully written a character who is not "nice," who does not conform to societal expectations, who is angry and grieving and far from the soft-focus stock image of new motherhood. Her body is unfamiliar, her scar throbs, and her breasts have taken on a life of their own. (Those particular depictions are oh so resonant!). Having had the experience of birthing taken out of her power, she feels out of control and can't find a way back to ownership of her body or of her life.  No one understands her and what she's going through, not even her husband. She is desperately alone and the idea of ending her life is never far from her mind. And then she makes a friend, another new mother, who is surprisingly in worse shape than she is.  Through that friendship, and that friend's new baby, she regains some control and comes back from the edge.
The Gods of Heavenly Punishment by Jennifer Cody Epstein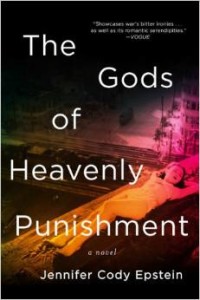 Cody Epstein knows how to tell a good story. Her characters are always richly drawn and fully realized, and the situations into which she places them are always well researched and ring true.  This novel is no exception. Told from several different perspectives and spanning several generations, this an epic story of the war in the Pacific during World War II.  The main character is a young Japanese girl, Yoshi, who life is radically changed when American bombers rain napalm down on her city.  The other strands of this story all connect through Yoshi but stand on their own as part of the legacy of destruction and pain caused by war, including Cam, the pilot of one of the American bomber planes, Anton, an architect who is caught up in the war despite himself, and Billy, who is posted in Japan following the war.  It is Yoshi who connects all the other characters and perspectives in this compelling tale of war, loss, secrets, and identity. The details of each character's outer and inner lives are wonderfully drawn and pull you right in – this could definitely one of those books you can't put down until it's way, way after lights out.
The Imperfectionists by Tom Rachman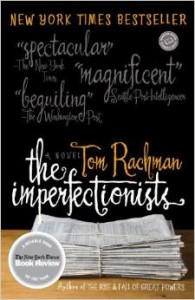 This book sat on my reading list for a long time before I finally dove in and read it. I'm so glad I did. This novel takes place in Rome, and involves the private lives of reporters and editors at an English language newspaper on the verge of extinction. Each of the characters, from the editor in chief to the obituary writer, to a stringer in Cairo is a tale unto themselves. They are struggling to keep the paper afloat as the world of publishing changes swiftly around them, and as control of the paper shifts to a new publisher. The details about each person's life seems just right, with enough provided to bring each one fully to life. There are unexpected twists, a good dose of snark, and great insights into the relationships they have with each other. Humor is mixed in with sadness, cynicism fights with idealism, and despair and anxiety are laced with hope.  This novel is robust and vivid, artfully drawn against the romantic backdrop of Rome and full of all the attendant elements related to news paper publishing in the 21st century. This was a deeply satisfying read.
All Who Go Do Not Return by Shulem Deen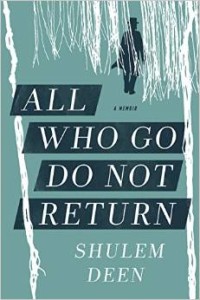 There has been a spate of memoirs over the last few years by people who have left the world of Hasidism. I admit to having a mild and inexplicable obsession with these memoirs, and yes, I'm sure there is something voyeuristic to my interest in them. But this memoir by Deen is different. Deen, who had been part of the world of the New Square Skverers, left as an adult in his mid-thirties, not his early twenties as others have done. This is not a vivid expose of sexual misdeeds or brutality (though there are some disturbing depictions of corporal punishment in educational settings).  There are depictions of faith-based violence and vigilante behavior, but while Deen comes to oppose this and see it as a very negative form of behavioral control, he also writes honestly of having been part of it at one point. This is all to say that he has not written a black and white, me versus them kind of memoir.  He also clearly want to protect certain relationships he has with people in the Hasidic world, and so he stays away, for the most part, from the kind of salacious details which might most interest outsiders already prone to be critical of the Hasidic world.  This is not to say that he shows fondness for the world he left – he is very critical of their brand of thought control, the substandard education provided within the community, and the ways in which they subvert the legal system. As an outsider who has read a lot on this topic, it is still shocking for me to learn (or have confirmed) that most adults in the community can barely read or write in English, and have no math skills – this is part of the way in which the community "protects" its members from the outside world, or isolates them and disables them from participating in that world.  He is critical too of the ways in which poverty is built into their way of life, again "protecting" them from the outside world. But there is a great deal of nuance and struggle here, along with deep pain. He is not, for the most part, writing about the world which he chose for himself for some period of time, but rather about his very deep struggle to make sense of meaning and faith within a world in which questions were discouraged and the rebbe had ultimate power over every aspect of life.  This is a tale of his own rebellion against that power, and his long journey to gain knowledge and free his mind.  He writes beautifully about his thirst for education, his dangerous questions about belief, his passion for ideas, and his need to find a supportive community. Though his choices caused him a great deal of pain, especially in regard to his children, this memoir is a testament to the need to fight for one's own truth in the face of extreme pressure to conform to destructive communal norms.