The readers among us know that any excuse to stay in bed and read will do.  So snowpocalypse or just a regular old winter day, here are some thoughts and recommendations from my recent reading encounters. Get (or download) a stack of good books, and go hibernate with them until the snow melts and the crocuses start to poke up.
Nora Webster by Colm Toibin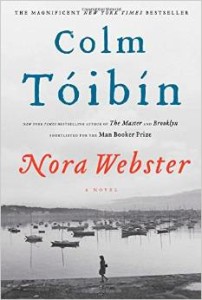 This gorgeous novel is quietly deceptive. At first it feels small and timid, like Nora Webster herself, but little by little its power becomes apparent.  At the beginning, Nora Webster is a new widow in Ireland with two young sons still at home, and two older daughters off at school.  She is devastated by the loss of her husband, lost in her grief but determined to figure out a way to get through.  Each step she takes in the mourning process moves her farther along toward finding a new sense of self.  She finds her voice, literally as well as figuratively, speaking up in ways she never had before, taking up singing once again, and gaining the courage to make decisions on her own. But none of this description captures the pleasure of reading this thoughtful novel, which delights in the everyday mundanity that makes up a life and understands how the little pieces of a life are actually quite significant. This is not a fast-paced book; it is slow, deliberate, and finely crafted.
The Magician's Land by Lev Grossman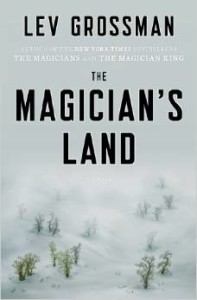 As a kid I devoured the Narnia books, along with the books of John Christopher (The White Mountains; City of Gold and Lead etc), and the Lloyd Alexander series The Chronicles of Prydain, to mention only a few of the series that fed my love of fantasy stories.  As a parent, I loved reading the Harry Potter books with my kids,  anything written by Diana Wynn Jones as well as countless other great fantasy series.  So when I discovered that Lev Grossman was writing a series of grown up fantasy books I was intrigued. And yes, I totally fell for the first one, The Magicians, and then again for the second, The Magician Kings.  How could I not love a fantasy series that begins in Brooklyn, featuring hyper-articulate nerdy high school kids, and goes to some very dark places while slyly making snarky, smart cultural references?  These books are the perfect grownup antidote to the longing for those childhood favorites.  They are about magic, yes, and like the Harry Potters books, they are about how magic exists in the real, familiar world and is experienced by real, everyday people. But they also have a secret, magical world, a not-Narnia that had been discovered earlier by a group of British brothers and sisters living without their parents and without much adult supervision in a big house in the English countryside (sound familiar?). And Grossman's high school students wind up in a magic boarding school (sound familiar?) but they are cynical, not endearingly earnest like some of the other familiar characters; they grow up and deal with drugs, sex, alienation, disillusionment, and failure.  With a wink and a nod, Grossman has repurposed different elements from favorite fantasy books into this series. He's clever and manages to pay homage without being simply derivative.  But there is one motif that runs through the trilogy which reveals that there is indeed some earnestness behind the snark, and that is about the importance of books and storytelling.  This ongoing theme is charming and sweet, and Grossman smartly finds ways to thread it throughout the narrative. Magician's Land, the third in the series, is as great as the first two.  Though called a trilogy, I hope there will be many more of these. Actually, I need there to be more of these. That's the way it is with a good fantasy series.
All the Light We Cannot See by Athony Doer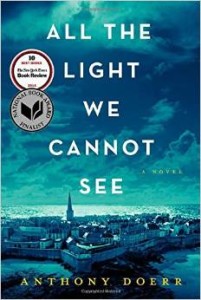 This book has gotten a lot of well-dererved attention, including being named a National Book Award Finalist.  Told from different perspectives, this beautifully poetic and yet ever-so slightly precious novel unfolds during and after World War II in Germany and in France.  The two main characters seem destined to exist in parallel story lines that will never converge, and yet fate brings them briefly together.  One is a blind girl in France whose devoted father, the keeper of keys at the Museum of Natural History in Paris, creates a detailed, miniature city for her so that she can learn her way around and become independent.  The other is a German orphan, a mechanical prodigy who gets swept up into the Nazi war machine.  Reminiscent of The Book Thief in a number of ways, this story reveals the ways in which the war impacted on and damaged the decent, everyday people, and particularly children, who could not get out of its way.
Some Luck by Jane Smiley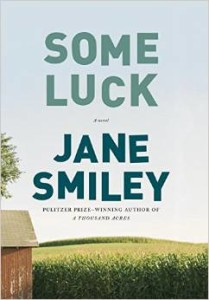 The first of an anticipated trilogy, this wonderful new novel by Smiley focuses on a farm family in Iowa. It is an epic, ambitious narrative that begins in 1920 and moves through three decades of transformation of American life one year at a time.  While remaining attached to their land and the farming life, change happens around the Langdon family.  The world continually shifts around them as droughts and wars, new economic realities and new technologies test the family's resilience.  Meanwhile the life cycle continues to unfold with new marriages to celebrate, new babies to care for, and new deaths to mourn.  Children grow up and face new choices unimagined by their parents. Smiley's ability to draw each character in this big, sprawling family as a fully developed personality with his or her own hopes, dreams, and challenges is remarkable.  She is a master story-teller who takes us through the lives and deaths, successes and failures of the Langdon family as they continue to adapt.  I look forward to the next two books with great anticipation.
Neverhome by Laird Hunt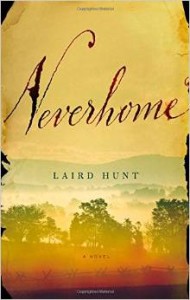 Inspired by real events but entirely fictionalized, this is a compelling tale of Ash Thompson, a bold young woman who goes off to fight in the Civil War in place in of her husband.  She goes because, as she puts it, one of them has to go, and she is better suited for the task than he is.  This story of a country at war with itself is both achingly beautiful and tragic. In part an odyssey of wandering, Ash leaves herself and all that is familiar behind to become a man and a soldier.  She journeys through a bloody country torn up by mistrust and hatred, trying to do her part despite the ever-deepending senselessness of war, so that she can return home.  Though the Civil War has birthed a great body of literature, the experiences of the women who fought, disguised as men, have been under-imagined. In this novel, Hunt gives voice to a complex character who must work to keep her identity a secret even as she fights, literally and emotionally, to survive the horrors of the war.  And she is truly a survivor, managing to get herself out of tricky situations and when possible, align herself with people who will help her, so that she eventually makes it back home to her husband and her farm, where yet more challenges await her.
The Paying Guests by Sarah Waters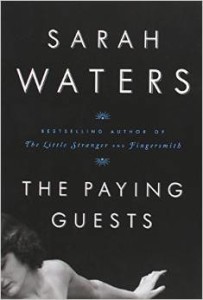 I have been a fan of Sarah Waters' for quite a while.  Her novel Fingersmith is beautiful and clever, with devious twists and turns that make it impossible to put down.  So too with Night Watch, and of course Tipping the Velvet,  with its erotic depiction of  lesbian identity and brilliant take on gender roles in Victorian England, was the book we all had to read when it first came out. So I have to admit to being very disappointed by her last two books.  The Paying Guest had promise, but it never developed into anything interesting.  Waters was on familiar ground, telling the story of an unfulfilled woman in post-World War I England who had given up her one great love out of shame and a sense of familial duty. When she and her mother decide to rent out part of their home to a young couple in the wake of her father's death and their altered economic status, she is drawn to the wife and they quickly develop a rich, complicated relationship.  The plot had potential to be rich in surprises and manipulations, but instead what unfolded was a fairly predictable story of love gone wrong. I kept waiting for the surprises, but they never came.
The Henna House by Nomi Eve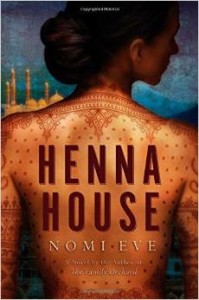 In this new novel, Eve offers a fascinating look into the lives of  Yemenite Jews of the early to mid-twentieth century. The story centers around Adela Demari, a young girl at the beginning of the book.  Though Jewish life was becoming ever-more precarious at that time, Eve does a fine job depicting the longstanding rituals and customs of the Yemenite Jewish community, and particularly the lives of its women.  The women's tradition of henna, which is described in beautiful, lyrical terms, is one of the threads that is woven throughout the book. At times the story feels timeless, almost like a folk tale.  On the one hand the community lives as it has for centuries, specializing in the crafts and professions that were allowed to the Jews. It is shocking then to realize that this story is unfolding not in some long-ago historical haze but in the twentieth century, in which the community lives under a cloud of war, modernization, and increasing anti-semitism.  With this rich setting, I had high hopes for this book, especially because I loved Eve's first book, The Family Orchard.  But while Henna House tells a good story about interesting characters and offers a view of an intriguing slice of Jewish history, it lacks the complexity and fine writing of The Family Orchard.  The florid prose detracts from a powerful story that does not need the level of embellishment that it receives.