In the last few years I've tried to read through the Man Booker Shortlist before the winner is announced. This year I managed to read four out of the six of the shortlisted titles – not bad given the timing – and one longlisted title as well.  Turns out that one of the four I read was the winner so that worked out well. The titles below are from the Man Booker lists.
Now that the days are getting shorter and the nights are colder, it's time to get in bed with a good book  or better, a bunch of good books.  Here are some very worthwhile recommendations.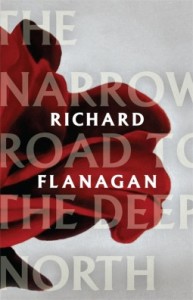 The Narrow Road to the Deep North by Richard Flanagan
This is probably not a book I would have chosen to read, had it not been on the Man Booker shortlist. It would have been a loss to miss this one. The easy way to describe this book is to say that it's about the experience of an Australian doctor as a POW during World War II, held captive by the Japanese in what was then Siam, forced to work on building a railroad. But the book is much more than that. It is really about a full life of a man, a life shaped in large part by the POW experience but also shaped by the love of a woman he meets as a young man, by a love of books and words, and by a lifelong sense of yearning. It is about how history is both experienced and retold, and about death and loss and the striving for connection, and about what gets remembered and what forgotten after the horror of war is in the past. Though the main focus is on one man, the sweep of this novel is enormous. Flanagan masterfully blends the arc a single man's life with that of world history. When I heard that this was the title that won this year's Man Booker Prize, I was not surprised.
The Lives of Others, Neel Mukherjee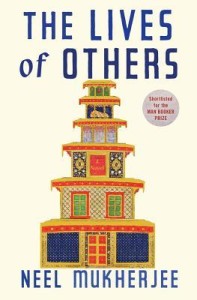 The Lives of Others, Neel MukherjeeIt was hard to read this without comparing it to one of last year's Man Booker shortlist titles, The Lowland by Jumpa Lahiri. Both novels deal with political and social unrest in India and the resultant unraveling of families.   The novels are very different otherwise, and yet the ghost of Lowland loomed over my reading of The Lives of Others, which suffered by comparison. That said, this is a rich feast of a novel. One of the wonderful aspects of this novel is the role of the house in which the Ghosh family lives. The house is a full character in this already full (and sometimes confusingly so) tale of a family in a downward spiral of wealth and its accompanying status. Several generations live within the house, though their physical proximity does not mean that they share experiences and outlooks. As the story progresses, the house, once solid, protective, and admired, becomes shabby and perilous. As the world changes around it, the fissures in the Ghosh family are exposed to the light, and the consequences are shattering.
To Rise Again as a Decent Hour by Joshua Ferris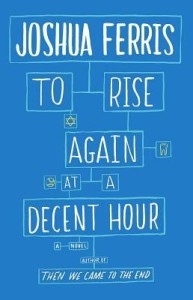 Where to begin with this strange book? It was funny, odd, annoying, and in the end, surprisingly satisfying. The protaginist of this Philip Roth-like novel is a somewhat anti-social dentist named Paul O'Rourke who is at odds with the world most of the time. Though devoted to the art of dentistry and seemingly good at what he does professionally, he doesn't quite get the art of social interaction, especially with women. He has an obsession with Judaism yet always manages to say exactly the wrong thing. The interactions with his office staff are at times amusing, but also annoyingly, even if intentionally so, misogynistic. The story centers around some skillful identity theft in which Paul is stalked by a cleverly weird and oppressed group that tries to convince him that he is one of them – a group based on the idea of being doubters. The texts that are used in developing the history of this group are very well done and sound almost just right as Biblical text, and yet clearly aren't – that aspect alone made it a worthwhile read, as does the unfolding of the history of this group and Paul's connection to it.
The Blazing World by Siri Hustvedt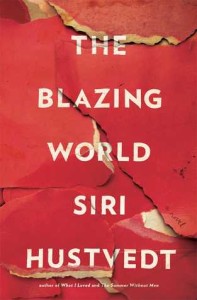 Though this was a longlist title and therefore not part of my self-propelled assignment, it sounded too compelling to pass up. Though at times somewhat convoluted, this is an astounding feat of concept and imagination. Hustvedt's character is an artist whose more famous husband, a gallery owner and art collector with an interesting private life, has died. Feeling that her identity as an artist had not been taken seriously by a world that recognized her as a "wife of" and "mother of," she buys a building in Red Hook, Brooklyn, and sets out to devote herself to art. Her nurturing instincts cause her to take in some strays even as she tries to intentionally be more selfish and focus on her own art. She comes up with the concept of choosing a series of three male artists who will be her "masks" in the art world, presenting her work as theirs in a grand experiment to see how her work is received if thought of as created by a man. One of the remarkable things about this novel is the creation by Hustvedt of a whole imaginary body of work by the main character – work that feels wholly real and visible, and extremely female. The telling of this tale unfolds in a series of narratives from different perspectives, as well as newspaper articles, journal essays, and interviews. Hustvedt herself plays a cameo role, being mentioned in one of the essays. The gentle lampooning of over-inflated art world egos, theory, and language is employed to wonderful effect. The Blazing World raises many important questions about women, art-making, fame, disappointment, anger, and love that stayed with me long after I finished this powerful novel.
PS: Over the summer, I reviewed a few novels, and among them was another of the Man Booker shortlist titles, We Are All Completely Beside Ourselves by Karen Joy Fowler.