The most recent batch of books I've read have been mostly outstanding.  One place I regularly turn for recommendations of new books is the Baileys Women's Prize for Fiction, formerly the Orange Prize.  Some of the book below were discoveries on this year's Baileys longlist.  They're not light beach reading, but they're worth the time.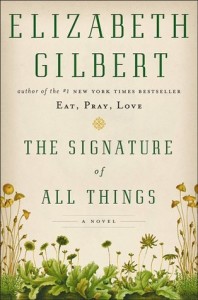 The Signature of All Things by Elizabeth Gilbert 
Let me start with this: This novel is exceptional.  If it wasn't for the fact that this novel was longlisted for the Baileys Women's Prize for Fiction for 2014, I probably would not have bothered with it.  I didn't know much about Gilbert beyond her popular book Eat, Pray, Love, and assumed I wouldn't like her fiction.  Just goes to show that you can't judge a book by what you think you know about the author.  I admit it – I was wrong, and I didn't know enough about Gilbert.  This is an epic tale of the life of a one woman, Alma Whittaker, born in Philadelphia at the start of the 19th century to an English father and a Dutch mother.  Born into a world that valued business acumen and scientific knowledge of the natural world, hers is an unusual childhood that leads to an unusual life.  She is a quirky, compelling character, as are all of those with whom she interacts as the world shifts and slides its way through the changes of the 19th century.  The abolitionist movement plays a role in Alma's life, as does the debate over Darwinism.  This novel brims with delicious, sensuous detail as Alma grows and develops throughout her life, encompassing discoveries as exotic as of flora in far-flung corners of the globe and as close by as her own sexuality, while it also asks the big questions about existence, creation, and the human role in the world. Alma's curiosity and intellect continue to evolve as the book traces her life to its very end, with detail that might bore in the hands of another author but remain fresh and ever startling in Gilbert's hands. Never have I cared as much about moss as I did while reading this book.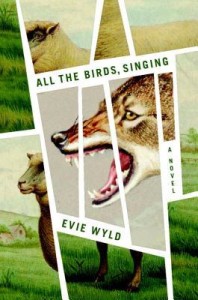 All the Birds, Singing by Evie Wyld
This was another one longlisted for the Baileys Women's Prize for Fiction (formerly Orange Prize) for 2014.  It is an odd book, and a difficult one, but rewardingly so.  Wyld quickly thrusts her readers out of the comfort zone of linear narrative, a smart move for a tale that is itself disorienting and unsettling.  The main character, Jake Whyte, is a cipher.  She is alone, terrified, has a back full of scars, and is living a precarious existence.  The reason for all of this unfolds slowly as the book progresses, moving both forward and backward at the same time.  That is, her present moves forward one section at time, but the backstory that lead to all of that is revealed bit by bit, going slightly further back each time until the book ends with a jolt at the beginning of Jake's story.   Assumptions about good and bad, villain and hero, right and wrong are upended.  Nothing is as expected, not for Jake and not for the reader.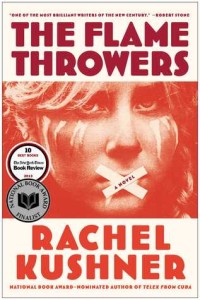 The Flameflowers by Rachel Kushner
This is another one longlisted for the Baileys Women's Prize for Fiction for 2014, as well as a National Book Award finalist and one of the Top Ten Books of 2013 by the New York Times Book Review.  Kushner present a compelling female protagonist, Reno, at the center of this work about the New York art world of the 1970's, political protest, the Italian labor movement, and trust.  This novel deals with issues of power, truth, falsehoods, and pretense.  All the ingredients for a stunning book are there, as are the accolades.  Some of it is in fact quite powerful – the descriptions of Reno's outsider status and ambition are moving and ring true, and the parts of the book that deal with the salt flats, her motorcycle riding, and her artistic aspirations are compelling.  The descriptions of a grittier, scrappier New York were magnificently drawn, with complexity and nuance that brought me to those days.  But there wasn't enough of that to hang on to.  Too many of the characters were not developed enough to care deeply about, and many of the relationships felt flat.  A worthwhile read but not on my top ten list for the year.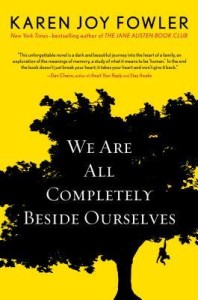 We Are All Completely Beside Ourselves by Karen Joy Fowler 
Not a book I would have read on my own but a friend whose taste I trust told me that a) I had to read it, and b) I couldn't read any reviews of it ahead of time because there's critically important information that gets revealed only partway through.  She was right, and I'll try my best to be careful here.  Though not on the Bailey longlist, this book comes with its own credentials – it was the winner of the 2014 PEN/Faulkner Award and was also one of the New York Times Book Review 100 Notable Books of 2013.  All I'll say beyond that this is a book that cleverly, and with some welcome humor, challenges our ideas about family, humanity, and belonging, not to mention scientific inquiry.  It's a quick read but heartbreakingly powerful.  I won't say more – just go read it.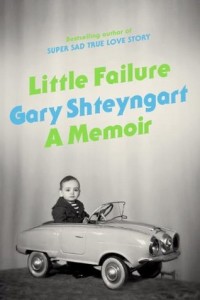 Little Failure: A Memoir by Gary Shteyngart 
Tragic, funny, heart-rending, insightful. Especially if you know from asthma, the immigrant experience, or going to high school in NYC.  In this wonderful memoir, Shteyngart chronicles his early childhood in the Soviet Union, and then his childhood, adolescence and later years in the United States.    He is endearingly honest about his pain, his discomfort, and his self-doubt, while still managing to be funny.  Partly a coming of age tale, and partly a classic outsider-makes-good story, Shteyngart's forthright prose is beautifully awkward and raw.
Happy reading!