On Passover we remember.  We remember our collective story as Jews on the road to liberation.  We remember our family story, the struggles for freedom that brought us to where we are today.  And we remember Passover itself – that benchmark holiday in our annual cycle.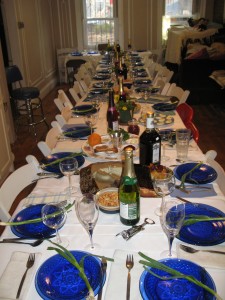 Like so many of our holidays, it's a time to remember observances in previous years and to mark the passing of time. Rosh HaShanah and Yom Kippur are certainly moments to take stock in that way.  How was I doing last year at this time?  What were my challenges a year ago, and what are they today?  Who were we as a family last year, and how have we grown a year later? And who was here with us last year, but now is no longer? 
For me, the pull of remembering on Passover is especially strong, perhaps even more than on the high holy days, because it's such a home based holiday. We look around the dining room, and the absences are stark.
Today would have been my father's 79th birthday.  It's hard to imagine what he would be like at this age, as he died ten years ago.  I never had the chance to see him grow old.  He is still missed – his absence very present, especially around the Passover table.  Passover was one of his favorites, probably because of its home-based nature.   When we read from the haggadah, there are still two readings that are "his".  Whoever reads them, and it's often me, reads them with him in mind and we recall his dramatic reading.    
Second seder is the big night in our house (first night is at my mother's).  There are many stalwart regulars, but some seats change from year to year.  It is a seder full of friends rather than family: an eclectic group of my oldest friend from age five and his family, my oldest camp friend from age eight and her family, friends from college, from synagogue, friends we met through our kids' school, from my high holy day congregation, dear colleagues, my daughter's former 3rd grade teacher.  Every year we worry that we won't be able to fit the ever-evolving guest list around the table, and yet every year we magically manage to fit everyone. 
But there's another guest list as well.  These are the guests who are around the table only in our hearts and our memories, even if their seats are now filled by others.  There's my father, with his particular connection to the Edmond Fleg "I am Jew" reading in the haggadah, or my grandmother, with her dramatic enunciation of the Ten Plagues and her legendary gefilte fish, or Belle and Ruben, the founders of our synagogue with their stories of the "old days" in Brooklyn, or my friend Bonnie, an amazing cook who used to bring the most delicious chicken soup and matzah balls, or the adoptive grandmother of our whole synagogue, Ida, who brought her homemade chopped liver and memories of life in pre-war Poland.  Even though someone else now make the chicken soup, and another person is making the matzah balls, and I've taken over the gefilte fish, the memories of their dishes and their stories stay with us. 
Passover, like all our holidays, combines the sadness of loss with the sweetness of memory, all wrapped up in the ongoing dynamism of change and forward motion.  We combine our bitter herbs with the joy of charoset. Like our ancient ancestors, we mourn, we celebrate, and we keep walking. Our collective story remains the same even as who we are changes from year to year.  I look forward to welcoming this year's guests into our home, to remembering with love my father and all those who once joined us around the table, and to continuing to create new stories and traditions every year.