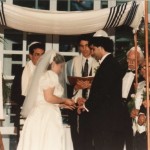 The fact that my youngest child is about to leave home and go off to college, and that my oldest child will shortly turn the magical age of 21, is making me weirdly reflective.  It's amazing to realize that this huge part of my life, this stage that has so greatly occupied me for twenty-one years, is about to be over.  Done.  Believe me, I know that parenting doesn't stop when they leave home, but still, all that thinking, all that angst, all that decision making about child-raising, it's over.  No more agonizing over those tough questions around nursing on demand or gender-based toys or how much allowance at what age or when they can walk home alone from school….  The list goes on but I'll stop there.
That part of my life is firmly behind me.  My kids got through babyhood, and toddlerhood, and tweenhood, and even most of adolescence, relatively unscathed.  They weren't ruined by the toy soldiers given by a babysitter who didn't know our no-war-toys rule, or the Barbie given by the well-meaning aunt who didn't know our no-Barbie rule, or by the comic books or sugared cereals or inconsistent naptimes that all happened despite our best efforts.  They've come out pretty okay.
But there is one question from those angsty early days that still feels fresh to me: The Last Name Question.
To change one's name or not when getting married? To hyphenate or not? And that's only Part A of the question.  Part B is, what to do with the kids and their last names?  These were questions that occupied a good deal of my thoughts years back, but they're not questions I've dealt with much in recent years.  And yet, the questions, and the implications of the decision, still feel quite alive and relevant.
I did not change my name when I got married.  I was who I was.  It was both a feminist choice and a practical choice.  Besides which, I have a cool last name.   (If you've seen the recent fun time-wasting game about creating your public radio name, I'm the one whose name is already odd enough that I could go on NPR as is).
And yes, I admit, keeping my name made my father extremely happy.  When my husband and I got engaged, my father actually told my husband that it was okay with him if I didn't change my name.  Seriously, with a straight face.
And then there was my mother, who of course changed her name when she got married in 1960. Later, she regretted the choice and took her original last name as her middle name, to be used on book covers and business cards.
But what about the kids, people asked.  Well, what about them?  Young and childless, we were sure we'd figure it out.  In 1990, when I got married, most women I knew were doing the same thing at the time, so really, this was not a big deal.  And what if you hyphenate, people would ask, and then they marry people with hyphenated names?  What then?  Horrors.  Whatever.  They'd figure it out.
At dinner a while ago with the parents of two of my son's close friends, I looked around and noted that all three of us moms had names different than our husbands.  We are typical of our generation and demographic.  The list of names in my son's high school graduation program showed that more than half of the mothers of his classmates had different names than their spouses.  The list of parents at his religious school confirmation two years ago showed only one mother who had the same last name as her spouse.  At a reunion dinner of his preschool class right before graduation we realized that every mom there had a different last name than her spouse.  This is the norm in the world in which he has been raised.
So, what about the kids? Well, among my kids' peers a certain percentage were given hyphenated last names.  For the unhyphenated crowd, in straight families most kids have their father's last name, and many (like my son) have their mother's as their middle name – in the gay families with no gendered fall-back position, it's often a toss up which name is in the middle and which is last, but most kids have both one way or another.  Other parents have come up with all kinds of combinations, including in some cases a brand new family name.  In other words, lots of solutions to the last name dilemma have been found, beyond the traditional solution of "one family, one name." And never mind what divorces and remarriages and nontraditional family configurations have done to last names in families.  When my kids were born, there were all kinds of solutions to the last name question.
For my parents and my grandmother, who were cheerleaders of my decision not to change my name, women keeping their names was a move in a new and good direction.  They saw it as a sign of progress.  So it's quite interesting, and yes, surprising, that my cohort of mothers may turn out to be just a generational blip. From a completely unscientific and ancedotal point of view, it seems that keeping one's last name at marriage is not longer the norm.  Most young women seem to be  changing their names.
I realize there are many good reasons to do so.  Perhaps they want the fresh start represented by a new name.  Perhaps they didn't have a good relationship with their father and don't want to keep his name. One friend of my sister's grew up with a hyphenated name and couldn't wait to get rid of it when she got married.   That all makes sense and I understand.  But one idea I often hear cited is that they want their family to unified with one name.  I nod respectfully, but honestly, having a mother with a different last name never made any of my cohort feel that we were any less of a unified family.  And if you must choose one unified name, why must it be the man's?  But I digress.  If feminism is about women having the agency to make a full range of choices, then choosing to change your name is as much of a feminist choice as choosing not to change your name.  I get it.
And yet I admit that I don't entirely understand.  I've been told that it's too cumbersome to have a different last name than a spouse. After 23 years of having a spouse with a different last name, and children with a different last name, I can safely say, no, it's not cumbersome.  Not at all.  All these moms in my cohort are used to the occasional minor inconvenience.  We're used to calling pediatricians offices and explaining that we're so-so, mother of this-one or that-one.  It's not really a big deal. People can deal with it.  Sometimes they need some education, but they can learn. (Okay, there was that one time at passport control, but it got quickly resolved).
When my then-to-be-husband and I discussed last names early on, we were in agreement about having different last names.  Though we did briefly discuss finding a new, original, name, our ultimate decision was an expression of core values of egalitarianism and family history.  It was about the importance of partnership between parents, and about preserving women's identities and history and aspirations alongside those of men.  I chose to do that by keeping my own name and giving my children my family name as a middle name.  An imperfect solution, but it's worked.  And in all fairness, I know that some other families who share those values find other ways to transmit them.
So then back to the question of what will our children do, those poor children burdened with all those extra names. My children are not yet at the life partner stage, so it  remains to be seen what they'll do then.  For a while in high school, my daughter took on my name and hyphenated it with my husband's last name, which I admit I loved, but it didn't last too far into college.  As for my son's hyphenated friends, by this stage, the end of high school, most (though not all) of the boys have dropped their mothers' names and go only by their fathers'.  That's a little sad, given the intention behind the choice at the time, but it's their choice to make.  I look forward to seeing the creative solution my kids and their peers will choose when the time comes, and I'll do my best to be respectful.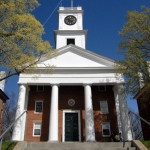 It's strange to think that after all the deliberation and intentionality that went into the decisions about our own last names and those of our children, we may well just be a generational blip.  As I looked around the table at our dinner that night, I realized that of course all of this is about much more than whatever name one chooses to go by, or what names we give our children. Whatever last names they carry, the fact is that all three of the boys at dinner that night are going to be attending their mother's colleges this fall.  That's an interesting generational change of a different sort.