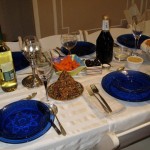 Seder food is typically heavy – not only because of all the matza and matzah meal and brisket and potatoes, but also it is laden with layers  of symbolism and meaning.  The bitter herbs, the charoset, the salt water, the parsley, the roasted egg, even the matzah, are all part of the pedagogic underpinnings of this holiday that emphasizes retelling and remembering.  On Passover we learn not only from our texts, but also from our food.
My sister, Jenni Person, created the term Culinary Midrash, the concept of cooking as a midrashic response to text.  It's a great way to learn, and she's created many wonderful text study experiences that result in the creation of midrashic dishes using this technique.  In keeping with the Passover methodology of learning from food, I borrowed my sister's concept to create a new Seder recipe.
When the Israelites are wandering in the desert, they begin to complain.  The trek through the desert is hard, and they are not yet fully on board with the mission.  They cry out that things were so much better back in Egypt, forgetting how difficult their lives were.  "We remember the fish we used to eat  freely in Egypt, the cucumbers, the melons, the leeks, the onions, and the garlic" (Numbers 11:5).  It's a very human response to challenging times.  When the future is uncertain, it's easy to  romanticize the past.
Out of that episode, I've created Leek and Artichoke Kugel.  On Passover we can celebrate our freedom with the foods that the Israelites longingly recalled on the long road to liberation.  Admittedly it's not an exact match – I'll leave the fish for the gefilte course, and the melon for the dessert course. I've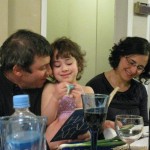 replaced cucumbers with their cousin the zucchini, and added in artichoke hearts in homage to Italian Jewish cuisine and to add some flavor.  But despite the changes, this dish is inspired by the Torah verse in which the Israelites, still a people more used to slavery than freedom, lament being brought out of Egypt by Moses.  This dish prompts us to hold onto hope and optimism even when our present seems bleak, while reminding us of the responsibility to work for a better future for all people.
B'tayavon! 
Leek and Artichoke Kugel, based on Numbers 11:5
8 Leeks, chopped
4-5 large shallots, chopped
2 teaspoons chopped garlic
1 cup carmelized onion (or two cups chopped onion)
4 jars artichoke hearts
4 zucchini, shredded
8 eggs
1-2 cups whole grain matza meal, depending on how loose you want it
salt, pepper to taste
Chop leeks and add to carmelized onions over medium flame.
Chop shallots and add to mix.
Drain artichoke hearts.  Reserve liquid and chop hearts.
Shred zucchini and add to mixture.
When mixture is close to wilted, add chopped artichoke hearts.
Sauté mixture.  Add 2/3 cup artichoke marinade and let it evaporate in pan.  Add salt and pepper.
Remove from heat and cool.
Beat eggs together.  Add to mixture and mix well.
Add matza meal.
Pour into greased baking dish (may make two batches depending on depth of baking dish).  Bake at 350 until it browns at the edges.