I spend my days with non-fiction: editing and publishing books of liturgy and essays, managing numbers and words, spreadsheets and strategy.  And when my work days don't spill over into the nights, I spend my evenings reading and writing and thinking about fiction.  As for poetry, well, that's there in the mix too, spanning the day/night divide.  Much of liturgy is poetry, and there is much poetry in the liturgical publications we create.  And there's the poetry I read (and occasionally write) when the sun has set.
After much prodding and encouragement, I am starting this blog to write about books, stories, words, texts and publishing – the main topics that occupy my days and nights.  And of course I can't write about these topics without also touching upon Judaism, which for me ties much of this together.  Not clear yet if any of this will be of interest to anyone other than me – we'll see.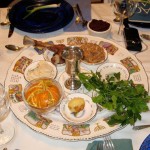 I've procrastinated starting this blog for a long time, but the timing finally feels right.  We are currently inching ever closer to our grand narrative of liberation, our central Jewish story.  Passover, the commemoration and celebration of our liberation from Egypt, begins next week and I am already knee-deep in planning and preparation.  Packed as it is with many stories, from the ancient to the modern, Passover is probably my favorite Jewish holiday.
As I prepare for Passover, I think even more than usual about stories – my stories, my family's stories, and the stories of our people.  The stories are what underlies everything about Passover – the preparation, the food, the dishes on the table, the seder plate, the discussion around the table, and of course the retelling of the Passover story itself.
All holiday observances contain stories: why we celebrate this holiday, why we celebrate it this way, how it's been done in our family, and so on.  But Passover, because it is such a home-based holiday rather than centering around the synagogue, is unique in its layering of stories upon stories.  As I prepare for Passover every year, I feel myself continuing to build upon those layers as I create new ones.
There is the way in which Passover is detailed in the Torah itself, the way the rabbis taught about Passover, the way Reform Judaism approached Passover, and the way I was taught to make Passover by my mother, based on what she learned from her mother and from her grandmother.  And then there are traditions we have created in our own home, some of which reach out to touch places and moments in Jewish history, and some which reach forward to the new.
So as I dip my toes in the blog-waters, I'll be focusing for the short term on Passover.  Then we'll see what comes next.  Thanks for joining me on this journey.