Passover is a disruptive time in my house.  We clean out cabinets and fridges, we get rid of some foods and stock up on others, cook and eat different dishes than we do the rest of the year, put away plates and take out other ones, move the good silver out of storage and get it polished 'til it shines.  We shift furniture around, carrying couches and other living room furniture to different parts of the house while bringing in rented tables and chairs.  So many chairs.  We welcome great numbers of guests throughout the week and see friends we don't often get to see.  And then at the end of the week, everything has to be moved back, put back in place, returned to whence it came until the next year.
Our regular routine becomes disordered.  It's wonderful, it's exhausting, and it's messy.
My Passover dishes are made of blue glass.  It's a family tradition that started with my grandmother in the 30's, and I love the idea that it's been carried forward.  These plates speak to me of Passover.  When they come out of the cabinet, in their vinyl storage cases, it's an unmistakable sign that Passover is about to arrive.  And seeing them on the set table, against the white tablecloth, a few hours before guests arrive is a beautiful sight.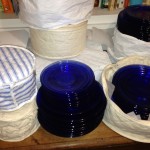 It's a big job getting them out of the cabinet, which is hidden behind the side of the stove and difficult to reach.  There's a reason we only use that cabinet for Passover dishes.  And there are a lot of them – a lot.  Every year I swear that I will find a way to make it all work more smoothly next year.  I will figure out how to cut down on the amount of work involved.  And yet here we are, all over again, looking at piles of blue glass Pesach plates that, with some effort, will go back into storage in another few days not to emerge again until next year.  And that's not even to mention the furniture – the couch has to be moved back into place and the rest of it has to be carried down from upstairs – and everything else that has to be moved back into place.  It will be a while before the house is back to normal.
And yet all this chaos makes sense. Looking at a map we marvel that the ancient Israelites should have journeyed from Egypt to the Promised Land in a matter of days or at most weeks.  But the road to redemption is not a straight line.  Figuring out who we are as individuals and as a people is complicated, and complex.  Those forty post-Exodus years of wandering in the desert teach us that becoming a mission-driven people united in covenant with God is a messy prospect, full of road blocks and obstacles.  It's a disruptive, disrupting course that requires intentionality, not being on automatic pilot.  Choosing to be in covenant means making thoughtful, proactive choices, over and over as we move forward.
Passover throws us off course, every year, all over again.  The cycle of the calendar turns again and here it is, to jolt us out of our routine once more.  To remind us not to take our routines for granted.  To move us out of complacency.  So we move the furniture and change our diets and switch our plates.
Shaken up, pushed out of our comfort zones, we're then able to begin the journey toward Sinai that culminates on Shavuot.  Passover gives us the chance to clean out not just our cabinets but our souls.  It reminds us to rethink our assumptions, and to clear out our heads by venturing off course.  The change in routine enables us to remember and rethink what matters, what motivates us.  Suddenly the view is different and we're forced to recommit to our core values and our deepest aspirations.
I have a lot of reorganizing to do in the next few days.  But all those piles of blue glass plates are more than just a Passover inconvenience.  They are signposts on the path to revelation and rededication.